Episode 15: Ten Important Farm Safety Tips & Resources with Dee Jepsen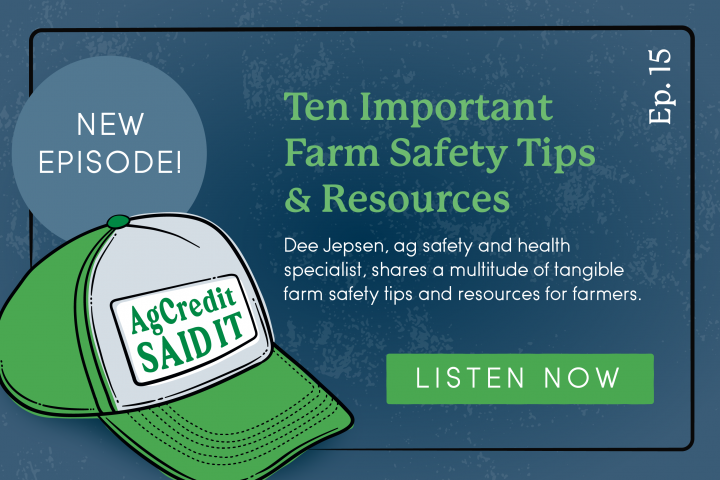 Between roadways, grain bins, and machinery, there are a lot of potential hazards on the farm. "Sometimes we just get so comfortable being on the farm that we don't recognize the dangers," says Dee Jepsen, a professor and ag safety and health specialist at The Ohio State University.
Not surprisingly, Ohio sees a spike in farm-related accidents in the spring and fall. And an average of 22 people lose their lives to farm-related fatalities every year, most commonly caused by tractors and machinery. Dee's job is teaching young farm kids to retired senior farmers about farm safety, but she says, "it's everybody's job."
Here are ten important farm safety tips and resources Dee shared with us:
1. Retrofitted Roll Bars
Nearly 59% of Ohio farm-related rollover fatalities could be eliminated if every tractor had a roll bar device with a seatbelt says Dee. Retrofit kits are available for any make and model and typically cost $800-$1200.
2. SMV Emblem
Did you know that the Slow Moving Vehicle (SMV) emblem was developed at The Ohio State University? It's one of the most recognized symbols worldwide. Yet, it's dually important to help others, especially young people understand what these bright triangles mean on the back of farm equipment or horse-drawn buggies. 
3. Tractor & Machinery Certification
The family farm is exempt from many rules and regulations that apply to workplaces, says Dee. "But I always say we can learn a lot from what OSHA says about best management practices." Ohio has a Tractor & Machinery Certification Program for 14 and 15-year-olds to learn how to operate a tractor and machinery properly to work for hire outside of the family farm.
4. "Tailgate Trainings"
As Dee refers to them, "Tailgate Trainings" are informal but effective ways to conduct farm employees' safety training. Perfect for a rainy day, periodically talking to your farm employees about safety measures "can stand up in the law" if needed says Dee. "Write their names down, who was there, what topics you covered. Then, put that in a file. You've just conducted safety training."
5. Extremity Lighting
As you hit the roads in the spring, ensure that your tractor and equipment lights are working properly. The state of Ohio was the first to put extremity lighting into law. If you have dual wheels or a piece of equipment trailing behind that blocks the view of the extremity lights on the tractor, you're required to operate with the proper lighting and marking, especially from sunset to sunrise. It's also good practice to have an escort vehicle behind equipment on roadways.
6. Grain Bin Safety
In recent years, an increase in on-farm grain bins has called for safety training for both farmers and first responders. Ohio offers a grain bin simulator that travels the state teaching practical grain bin safety skills. The mobile training bin also helps rural fire departments know what to do when they arrive on the scene.
7. Grain Dust Safety
"Now is the time farmers enter their bins to check on them, unload, and then clean," says Dee. Grain dust, or highly repairable dust, is a hazard farmers need to protect themselves from while sweeping out their bins. "And the only thing to really protect you from that level of contamination is the N95 respirator, an N99 respirator, or a P100 respirator," says Dee.
8. Farm Stress Management
Just as safety management gets implemented on the farm, so should stress management. Dee says we should be talking to farmers about resources to manage stress and discussing the particulars of farm stress with counselors, therapists, and crisis hotlines. "What they need to know is that they can't fix all of the issues that farmers deal with," says Dee. Ohio has dedicated resources for rural and farm stress management.
9. Farm Safety for Kids
As parents, we have to be role models and have farm rules, says Dee. Teaching the next generation of young farmers about potential hazards and the critical safety precautions they can take is important to building a safety mentality and mindset on the farm for years to come.
10. AgrAbility
Through the Ohio AgrAbility program, disabled farmers can receive financial assistance and modifications to equipment and devices. Whether it's a physical disability, like knee or hip replacement, or a long-term health condition, like loss of sight or an amputation, this program helps farmers keep farming.
While this isn't an exhaustive list, Dee stressed the importance of our industry advocating for safety. "We want every farmer to stay farming," says Dee.
Here's a glance at this episode:
[06:04]

Ohio has farm safety resources online and at county extension offices for all ages.

[07:16] There is typically a spike in farm accidents during the spring and fall. While Ohio has a lower fatality rate than other surrounding states, an average of 22 people lose their lives every year in Ohio to farm-related casualties.

[08:14] Awareness programs are geared towards young and senior farmers. A little over 20% of fatalities happen among young people, 20 years or younger, and almost 30% of fatalities happen to retired farmers.

[10:15] Tractors and machinery are the biggest injury causes on farms.

[11:36] Dee explains a roll bar safety measure that can be retrofitted to tractors to decrease tractor rollover fatalities by 59%.

[14:16] Dee discusses why roadway incidents are a big concern and the Slow Moving Vehicle (SMV) emblem's importance.

[18:03] Ohio offers a Tractor Certification Program for 14 and 15-year-olds to learn how to operate a tractor and machinery properly.

[19:07] "Tailgate Trainings" are an informal but effective way to conduct safety training for farm employees.

[20:57] Dee explains Ohio law behind extremity lighting on tractors while on the roadways.

[25:53] On-farm grain bins have called for safety training for both farmers and first responders. Ohio offers a grain bin simulator that travels the state for teaching practical grain bin safety skills and helping rural fire departments know what to do when they arrive on the scene.

[31:55] Grain bin dust is another safety issue farmers should be aware of.

[37:20] Just as safety management gets implemented on the farm, so should stress management.

[45:42] The Ohio AgrAbility program allows disabled farmers to keep working on their farms through financial help or modifications to equipment and devices. 
Resources mentioned in this episode:
Ohio Farm Safety Resources ​​https://agsafety.osu.edu/resources
Tractor & Machinery Certification Program for 14 and 15-year-olds https://agsafety.osu.edu/programs/tractor-machinery-certification-program
Tailgate Safety Training (Fact Sheets) https://ohioline.osu.edu/tags/safety
Grain C.A.R.T Rescue Simulator https://agsafety.osu.edu/grain-cart
Ep. 8: Mental Health https://www.agcredit.net/news/episode-8-recognize-persuade-refer-three-most-important-words-you-need-know-when-it-comes
Rural and Farm Stress Resources in Ohio https://u.osu.edu/farmstress/
Ohio AgrAbility https://agrability.osu.edu/
Connect with AgCredit :
Facebook https://www.facebook.com/agcredit
Twitter https://twitter.com/agcredit
Instagram https://www.instagram.com/agcreditaca/
Share questions and topic ideas with us:
Email podcast@agcredit.net
Bios
Guest Dee Jepsen
Dr. Dee Jepsen has been with the OSU Agricultural Safety and Health Program since 1992. She teaches an Ag Safety and Health course during the Spring semester and offers OSHA training, available for off-campus groups interested in agricultural occupational safety training. Her outreach efforts evolve around current issues in farm and rural safety, providing community training programs for high school classrooms, farm families and workers, agricultural industry groups, and the public seeking to understand safety and health issues farmers face. Current projects are roadway safety for tractors, machinery and Amish buggies; tractor safety education programs for youth and Women in Agriculture; establishing a ROPS rebate program for Ohio; documenting farm injuries and fatalities; respiratory hazards associated with grain dust at on-farm storage bins; skin cancer prevention; and overall farmer health including stress.
Host Matt Adams
Matt serves Paulding County as an account officer at AgCredit. He has worked in ag lending for over three years and previously worked in farm equipment sales for 11 years. He and his wife farm in northwest Ohio with their two daughters and son. His favorite part about AgCredit is the people. From the member-borrowers to the internal team at AgCredit, every day keeps getting better. Matt hopes to bring insights to ag lending and some laughs to the AgCredit Said It podcast.
Host Brenna Finnegan
Brenna has been an account officer serving Lorain County for three years. She's worked in the agricultural industry for over 16 years with experience in livestock production, specialty crop production, seed production and processing/distribution. She grew up on a small family farm raising row crops and cattle. She currently has her own herd of beef cattle that she breeds and sells as show stock calves for 4-H and FFA members. At AgCredit, Brenna enjoys being able to work directly with the local farmers and especially helping young farmers achieve something that they didn't think they could.
Transcription
Voiceover (00:02):Welcome to AgCredit Said It, the podcast for farm newbies and seasoned professionals alike. In each episode, our hosts sit down with experts from across the agriculture industry to bring you insights, advice, and must have information on all things rural living, from farming to finances, and everything in between, so let's get to it.
Matt Adams (00:27):Hey, everyone. This is Matt, and welcome back to another exciting episode of AgCredit Said It. I am here with Brenna Finnegan today. And we are talking about a subject that really covers I would say even more than just agriculture, even our surrounding rural communities, is farm safety. So let's get right into it. Brenna, why don't you go ahead and introduce our guest for today?
Brenna Finnegan (00:50):We are here with Dee Jepsen. She is a professor and extension ag safety and health specialist at the Ohio State University. Thank you, Dee, for joining us.
Dee Jepsen (01:01):Well, thank you for having me because safety and health is not just my job, it's everybody's job when you get on the farm.
Brenna Finnegan (01:06):It sure is. And it's one of those topics that not many people want to discuss, or really do discuss when talking about farming and the things that happen on a farm and all that kind of stuff. So why don't you give us a little bit of your background, where you're from? How did you become a professor at The Ohio State University?
Dee Jepsen (01:24):Wow, okay. Well, I love agriculture. I've been in agriculture all my life. I grew up in Tuscarawas County, for those of you that know that little eastern side of the state. But I work at Ohio State now, which means I cover all the counties. And I've gotten to learn a lot, not just about fatalities and things that happened in my county where I grew up. I now live in Fairfield County with my husband and our two daughters, who aren't at home anymore. But I always say as a safety person that I successfully raised healthy and safe kids on the farm because that is a challenge, and being a good role model for safety, we do our best, but sometimes things get by us and we're busy.
Dee Jepsen (02:08):And so I guess I bring that practical aspect in that I live it and work it every day, to know how hard it is for farmers to think about safety. But I always say farmers have birthdays, and so maybe they need a birthday gift that looks like a little safety gift or a health gift. And so every now and then, that's what people get from me, and try to make it fun and engaging-
Brenna Finnegan (02:26):That's not a bad idea.
Matt Adams (02:26):That isn't, no.
Brenna Finnegan (02:29):It's amazing to think about all the things that have changed, even when I was a kid growing up on the farm, we ran all over the place at the farm and all that kind of stuff, and did forts up in the haymow and ran throughout the barns with the cattle and all that kind of stuff. But raising, or seeing my niece and my nephews all raised near and around the farm, really, don't get out of our sight. We've got to see you. Where are you at? And make sure that they're not getting into something that they probably shouldn't be. And we think about all the things that we were exposed to and how much we now know, maybe that's what's wrong with all of us. You know? No, I'm kidding.
Dee Jepsen (03:12):No, Brenna, you bring up a really good point because when you're raised on a farm, or you bring guests to the farm, or have those sleepovers if you've got young kids, or you go to grandma's house, it's really hard to know where that backyard ends and the barnyard begins. So that difference between the home life and the farm life, there's no other industry that you can do that in except for farming. And so I think that's where some of our problems come is that we just get so comfortable being on the farm that we don't recognize and we're not aware of the dangers. Or maybe we are, but then it's those visitors that come to our farm, they don't realize. They just want to go out and pet the animals, or they just want to run out and ride on a tractor, which in any other industry, they would not be able to enjoy that.
Dee Jepsen (03:58):So we have to embrace that for what we do, but we also have to think about how that leads to some of the fatalities and the injuries that we experience as an industry, and why we're experiencing so many is because we've spread this into other generations and different populations.
Brenna Finnegan (04:16):There's a Tim McGraw song, Don't Mess With the Bull, or whatever. I don't remember what the name of the song is, but a line of it's like, "Don't mess with the bull as you're walking past," and all that kind of stuff.
Dee Jepsen (04:27):Don't forget to shut the gate.
Matt Adams (04:28):Right.
Brenna Finnegan (04:30):Yes, exactly. Yeah.
Matt Adams (04:31):And it definitely does seem, especially in our industry now, we're so much more fast paced I feel. So maybe there's not the easy flow on the farm now where everything is, it's a very precise movement and always does seem like we're on a shorter window of time to do stuff. So maybe we're just such a fast paced industry now that maybe some of our safety stuff gets overlooked that maybe it didn't in the past.
Dee Jepsen (05:02):That's true. We don't always have time. There's other priorities. But then when something does happen, then we step back and say, "Oh, could we have done this differently?" So we need to learn from what we're doing, especially if we have new employees or people that aren't familiar with the farm. It's okay to have that safety review before you start every season, just to update yourself about, "Hey, we're heading into harvest season. These are the things we should be watching for."
Brenna Finnegan (05:32):Unloading things. Putting the guard down or things like that.
Dee Jepsen (05:35):Yeah, or we're going to go out and clear a tree line around these fence lines. Let's review chainsaw safety today. Do we all have our safety glasses on? Would someone like to wear these chaps and be the main person and the rest of us ... Just have that thought process. As a reviewer, we watch commercials all the time and they just remind us of things. That's all you have to do with safety, a lot of times.
Matt Adams (05:58):So stemming off from that, Dee, tell us a little bit about the farm safety office and the services that they provide.
Dee Jepsen (06:04):So what we try to do is we provide resources that folks can get either online or at their county extension offices, farm bureau offices. A lot of our information is not specific to OSU. It's the best practice that we can put together. So on our website and the resources that we could offer would be everything from grain safety to roadway safety, to if you're having a safety day or an ag awareness day at your school or in your community, there are some farm safety resources out there for young kids that have little connect the dots and coloring sheets that will just help that age appropriate task that we were talking about with the young kids. Because where do you get those resources? They're hard to find.
Matt Adams (06:49):Right.
Dee Jepsen (06:49):So we try to pull them all together, so really what we help with, it's not like we're a service but we're pulling together resources and responding to needs and help you with your community safety events.
Brenna Finnegan (07:05):Talking about the rural safety obviously, what are some of the facts out there that people aren't aware of or anything like that? So what are some of the facts?
Dee Jepsen (07:16):Yeah. That's another thing that's on our website. I know people do little research papers or FFA students need ideas to present or media needs, some statistics here and there. That's part of my bad job, Brenna. That's the part I don't like to do is record how people are injured or even killed doing what they love on the farm. But what we know is that farming doesn't really ... Deaths on the farm don't really have a season. They're year round but there are times in the spring, we see a spike and then also fall harvest is another dangerous time. And there's an average of 22 people that lose their life every year in Ohio, and when we look at the other statistics and other states surrounding us, we have some of the lower fatalities in our surrounding states. And we're a big industry, as you know. Ag is a huge industry.
Dee Jepsen (08:14):But I think when we start looking at where the fatalities happen, which counties, and how they're happening, then that guides me and my injury program so we can go out and focus on senior farmers or young farmers. Because in our fatality database, a little over 20% are all to young people less than 20 years of age. So that's surprising, and that's why we want to advocate for farm safety day camps, or those ag awareness programs to help teach farm kids, or other young workers who want to get involved in farming, how to approach an animal, or how to use equipment safely. I'm not saying keep them away from it. I'm saying how do we teach that operation?
Dee Jepsen (09:04):And then on the opposite side of that, the senior farmers, they're also almost 30% of our fatalities happen to those after they've retired. So when you look at 50% some, and I say some, it's like 52, 51.6% of our fatalities in Ohio are to those workforces that are not even in the general workforce, right?
Brenna Finnegan (09:29):Wow.
Dee Jepsen (09:29):They're not your typical age of worker. They're younger or they're older, so they're not counted in other industries. That's where we really need to focus is on what's going on with the senior farmers and how do we help? Do we do coffee talk shops or do we look at their equipment to say ... And we know that they're not going to be buying brand new equipment but if they have a PTO shaft that's not guarded, putting a guard on is a lot cheaper than buying a whole new hay system. So what are some things that the farmer needs for his birthday or her birthday, right?
Brenna Finnegan (10:03):That's a good thought.
Dee Jepsen (10:05):And then when we look at what is the biggest injury cause out there, the tractor, number one. Everybody has a tractor. It doesn't matter what you're farming, you've got tractors. So it's not a surprise that tractors and then machinery that it operates is over 60% of our farm deaths. So when you think we've got ATVs, we've got skid loaders, we've got grain bins, we have livestock, yes, those can cause deaths on our farms but tractors and machinery are our number one focus area.
Dee Jepsen (10:39):So when I bring up Tuscarawas County, I look over there at that Appalachia group and say, "When I go over there, I want to talk about, even though you've invited me to talk about livestock safety today, I'm also going to talk about tractors and machinery." And if I go to Paulding County or Darke County, I'm going to talk to you about tractor safety. And they'll say, "But this is flatland." And I said, "But it doesn't matter."
Brenna Finnegan (10:58):Doesn't matter.
Dee Jepsen (11:00):Tractors still are hooked up to things. You're pulling stuff out. So improper hitching or you could still roll it over, over a berm or on the roadway, or out mowing around banks and ditches and ponds.
Brenna Finnegan (11:15):I always think about mowing our pond, around the edge of the pond. I'm from northern Ohio, so it's flat country. Maybe the little ripple every now and then. And every time it would tilt one way or the other, I'm like, "Oh my gosh, no." I always hated mowing around the pond because that was my big fear of it dumping over.
Dee Jepsen (11:36):Brenna, what do you do? Besides knowing how to operate that tractor safely, right? So you need to know the balance and the stability and the point of balance and all of those things. But we have a device that we could put on every tractor and it has a 99.9% effective rate, and that's called a roll bar with a seatbelt. And those two things used in tandem ... So how many cab tractors do we have out there and folks do not wear their seatbelt? But yet, we know that you wear your seatbelt when you're in a car, or at least that's what the law says you do.
Dee Jepsen (12:10):So if we implemented some of the safety features that are on our equipment, we could completely eliminate 59% of my fatalities that I see in the database are caused by tractor rollovers. Why not put on a roll bar? And I want to mention that even if you have an open station tractor, they do make retrofit kits that are available for your make and model. There's very few models that do not have a kit available, and they cost anywhere from $800-1200, and that's from the factory. And what I'm hearing is manufacturers don't put a lot of markup on that, that they'll just sell it to you at that cost.
Dee Jepsen (12:48):So I would love to advocate putting these roll bars and seatbelts on those Appalachia use tractors, so the ones in the south or some of our older ones. And if they don't have a roll bar, maybe they need to be retired. Did I just say that? But maybe some of our equipment can have a different purpose, that it's not the one you use everyday to mow around that pond, that we'll choose a different piece of equipment. And I think young people are even buying into that. It's-
Brenna Finnegan (13:17):Yeah. You think about $800 or $1200 to spend versus losing a life, or a major injury or anything like that, that's worth every single penny. It doesn't matter. It could be probably twice that and it still is worth every penny.
Matt Adams (13:38):Looking at another aspect of this, Dee, I want to get your opinion on this. One of the big pushes we hear now, especially on the roadways, is tractor driving. In agriculture now, a lot of our technology, we have equipment with four, five plus monitors. A ton of automation in the equipment, and also nine times out of 10, we have a cell phone up to our ear or have a headset on. Are you seeing that distracted operating is becoming more of a problem in our industry?
Dee Jepsen (14:10):You've brought up a new and emerging issue, right? In the last 10 years, we never had to think about that before-
Brenna Finnegan (14:15):Distracted driving
Dee Jepsen (14:16):Distracted, yeah. And as more farmers do get that technology in their cabs and they can just sit back and scroll their Instagrams and things while their tractors are on remote, we don't see a lot of problems with that, but you mentioned the word roadway, and roadway incidents are a big concern in the state of Ohio. It's not just fatalities but then it's also property damage to our equipment. So distracted driving, for the most part, the farmers on the roads are paying attention.
Dee Jepsen (14:54):It's the folks that don't understand what that little triangle means on the back of all equipment. That's 25 miles per hour. Slow down. Adjust your speed. Not just on our farm equipment, but also in Amish communities when we have the horse drawn vehicles, whether they have the SMV or not, our young people that are just learning to drive and our distracted folks that are out in the country for a drive, pay attention for that farm machinery.
Brenna Finnegan (15:23):Dee is very passionate about the slow moving vehicle signs, and the use of them and all that. We had a story the other day.
Dee Jepsen (15:30):It was developed at Ohio State University and now it's one of the most recognized icons, right up there next to those Mickey D arches. The SMV emblem is known worldwide and it was developed at Ohio State University.
Brenna Finnegan (15:43):That's pretty awesome.
Matt Adams (15:44):That is awesome. So I've got a little scenario here for you, Dee. Small operation versus large operation. I am a small operation. I am one to two employees, versus my neighbor down the road that has 10 plus guys. Farm safety really doesn't apply to me, right? I'm only one guy.
Dee Jepsen (16:03):You're right. You're only one person, but you're probably the most important person on that operation. And so it doesn't matter how many you have, everybody has a job and they're valued for the role that they play. And we do know that after a life changing, whether it's a life changing injury or a fatality, farmers lose their operation in like three to five years, just based on sustainability of the farm, the costs, can family members keep it up? So you are just as important as the place that can just keep replacing you with workers, the larger guys.
Dee Jepsen (16:42):Now the larger guys also could ... They may fall under some other training requirements for their employees, some machine guarding issues. There could even be some compliance issues above and beyond for workplaces. You're right, the family farm is exempt from a lot of those same rules, but I always say can we learn from what OSHA is saying about best management practices? And if they say machine guarding causes a lot of injuries, why don't we look at how we can put those guards back on our equipment, whether they're PTOs or fan housings, or anything that has those moving pulleys and parts, and just maintenance and safety-
Matt Adams (17:26):I can look at some scenarios. I was in the equipment industry for 11 years. Sole proprietor operation, I know that the safety switch is bad on my tractor. It's been bad for five years. I know it so I know not to look for it. Your neighbor comes over, borrows that tractor, he didn't know about that. A $30 switch can save a life. I always feel I don't overlook anything because of price when it deals with safety.
Brenna Finnegan (17:51):So you mentioned some of those farms having maybe a safety class or session. There's a certification program here, or within the industry, isn't there?
Dee Jepsen (18:03):Well, there's several. When you're talking about certifications, that would be those that qualify maybe an operator. So you don't have to be any age to drive a tractor on the roads in the state of Ohio. You have to have a driver's license to drive a car, but could we train young operators how to do safe equipment operation? So we do have a tractor and machinery operation program that we can offer 14-15 year olds that want to go to work in industry and work for hire, not for the family farm. So that's called the tractor certification program.
Dee Jepsen (18:41):A lot of our ag science programs know about it, or could offer it, and our extension offices are able to offer it. If it's not available in your area, you can get on our website and find out how to help you with that. But I always say it doesn't matter. Let's just train everybody. It doesn't have to be a true formal certification class.
Brenna Finnegan (19:06):Correct.
Dee Jepsen (19:07):Also on our website, we have things that are called ... There's a farm safety fact sheet series, I call them tailgate trainings. It's a little short page, front and back, and then there's a little quiz, a three item, really short quiz. You let your farmers or you take to your farmers, I used the idea about chainsaw safety, or there's electrical safety, there's tractor operation safety. There's 80 topics on there. You talk to the farmers on your team. You just sit around your tailgate. Maybe if it's a rainy day and you're in the shop, pull them up online, look through them. Let your employees just answer those questions and then print that off, put that in their file. You've just conducted an informal tailgate training, and that can stand up in the law that you provided safety training and it didn't hurt, didn't take extra time. And maybe-
Brenna Finnegan (20:03):I've never thought about that before.
Dee Jepsen (20:05):You know what? You've got people on your force, so the next month then you say, "Hey, Brenna, it's your turn to offer us a safety class next month," and let somebody else teach it. Again, write their names down, who was there, what topics you covered. Put that in the file. You've just conducted safety training.
Brenna Finnegan (20:23):Yeah. And it's not anything that's like-
Dee Jepsen (20:23):Didn't cost you anything and it wasn't a certification-
Brenna Finnegan (20:29):Five, 10 minutes before everybody gets going for the day.
Dee Jepsen (20:31):Exactly.
Matt Adams (20:34):It's starting to warm up a little bit. We're going to be getting in the fields here before long. A lot of equipment is going to be hitting the roads. What are some good roadway safety tips that we can give our operators, everybody in the rural community, what to look for? I'm sure everybody always makes sure all the mud is wiped off the lights before we pull out of a field and everything is working, right?
Dee Jepsen (20:57):Absolutely. We just expect that. I think farmers are a lot more aware of that, especially when you live on the fringes of urban areas, that your lights are working properly and if you have flashers on. If you have dual wheels and you're on the road, you need to have the yellow flashing-
Matt Adams (21:20):The extremity lights.
Dee Jepsen (21:22):The extremity lights, that is. That law, Ohio, was the first to have that law in the whole United States, and it was based on a fatality that happened when someone was approaching a tractor from the front. So it was oncoming, did not see that extra set of dual wheels over the centerline. Hit the wheel, hit the drill that they were pulling, flipped the minivan, and it was a tragic accident that could've been prevented. But if you were on that jury and you didn't know that wheel was there, and it was dark, it was at night, you have to feel for the person who lost their lives and people in the van. But then that got us all thinking, can we do better as farmers to mark our equipment? And now you do. You see a lot of lights, the extremity lighting.
Dee Jepsen (22:17):Now we have to also teach the motoring public to recognize and respect us, so that brings up, do you have escort vehicles? Especially if you're moving at times where you know it's busy time, or if you have that extra person that can go ahead or stay behind, but it is the law that you have whatever piece of equipment that you block the view of with any trailing equipment, it has to be replaced on that last piece of implement. So if you're pulling a gravity wagon, that gravity wagon needs to have the same lighting pattern that's on the tractor, if it's blocking the brakes or the lights, and also, the SMV emblem.
Dee Jepsen (23:01):Now if it's a short piece of equipment, and you can still see everything on that tractor, you're not required to put it on. So I'm going to say things like a blade, or even a short manure spreader that's low enough that you can still see. But I always say, that little SMV emblem is going to save yourself too, and we know liability drives some of the issues. So for liability reasons, please put on what's required.
Brenna Finnegan (23:33):You mentioned an escort vehicle of some sort, and it kind of sounds silly because you think of an oversized load going down the highway or something, and their escort vehicle.
Matt Adams (23:42):What is a piece of farm equipment going down the road? It is an oversized load, just like any other piece.
Brenna Finnegan (23:47):Exactly. And moving from one field to the other, I can remember my dad being like, "Just go ahead and go home. I'll be fine or whatever." And I'm like, "No, I'm following you because I'm going to block whoever is going to try to pass you, the person that doesn't have the patience to wait out what you're doing." That kind of thing. And there's been so many times that I've done that, and just waited, especially when they're pulling in crossing that other side of the road to get into the driveway or to the field or whatever-
Dee Jepsen (24:15):Turning left.
Brenna Finnegan (24:16):Turning left, yes, exactly. I've gone into the center lane and blocked it so nobody could actually go ahead and pass, but I know somebody in our area that a vehicle passed and he made the turn, and for some reason, I don't think it ended up being his fault or anything but I do know they went after him, I'm pretty sure. At least I'm assuming the family did. But it's just one of those scenarios that patience is a virtue and that happens to be one of them.
Brenna Finnegan (24:52):Shifting gears a little bit, we talk about roadway safety and equipment safety and all that kind of stuff. One thing that gets overlooked, especially a little bit in the fall, grain bin safety. And I know your office has been a very big advocate obviously, since it's the safety office and all, for grain bin safety and how much has gone into it, and the equipment that has been distributed throughout the state and that kind of thing. Tell us a little bit about what the office does and what you guys have going on for all that.
Dee Jepsen (25:25):Yeah. Grain bin safety. If you look back 15 years ago, were we talking about grain bin safety? Probably not. But as industry has driven this problem, and I'm not going to say it's a problem, but industry has allowed farms to put their own grain bin structures up, right? If you think back 20 years ago, we would haul into town a lot more.
Brenna Finnegan (25:53):Yes.
Dee Jepsen (25:53):Okay? But now we build these bins. We can sell when the markets want us to sell and we can hold the grain longer. This has created then this hazard that anytime you have stored materials in a confined space, which is what a grain bin is, then that farmer is holding that risk, not just their economic viability. And I always say if you had a bin full of money and gold coins, wouldn't you want to go in and check it every now and then, make sure it's still good, make sure it's all still in there?
Brenna Finnegan (26:28):Got to check for those hot spots.
Dee Jepsen (26:30):So we do know that grain bin entry, and not just in the fall. In the fall, we're filling the bins so those hazards are more mechanical and you're getting caught up. But through the winter months, now there's a chance for engulfment, because the corn product or the beans, it's a biological ... It's not gravel or sand that we fill this up, so it's going to take on moisture. It's going to have bugs. You're going to have to manage that differently.
Dee Jepsen (26:58):So farmers need to get in there and manage their product. How they manage their product is what we try to advocate. So safe bin entry, what are those procedures that we recommend that you do? We hired a person, her names is Lisa Pheifer. She's wonderful. She travels around the state to talk nothing but grain bin safety. Now she does other things on the side, but this is her job. We have a grain bin simulator that also travels the state. So when it's in your area, we can do outreach to the school programs, to community programs, about how not to become a victim. It has everything from lockout, tagout examples on it, to grain engulfment, to machine hazards and auger safety. And so we do a lot of injury prevention to farm communities.
Dee Jepsen (27:50):Then the other side of that is helping rural fire departments and first responders know when they arrive on the scene, what do they need to do? So the fire chiefs, they're able to designate what type of training they feel their volunteer units need, as well as if they're paid, if you're in the city but you also could be on mutual aid to respond to an ag incident. So having this grain simulator, we call it the grain CART, C-A-R-T, which is the comprehensive agriculture rescue trailer.
Dee Jepsen (28:23):But we gave it a name of grain CART. It's a 40 foot flat bed trailer that could roll into your community. The Ohio Fire Academy actually does the training for the fire departments. So it's documented training for them, and then we can do the outreach program as well. I looked at the calendar before. I knew you might be asking me this question. It is completely booked for this whole year-
Brenna Finnegan (28:50):That was going to be my next question.
Dee Jepsen (28:51):... for the weekends. But we have space that we could fill in during the weekdays, when we know that on a random Thursday could roll into your community and we could have a little hamburger fry and a little lesson at the same time and do training. There is a cost recovery fee to getting that to your community, but for the most part, it can get sponsored locally.
Brenna Finnegan (29:15):A few years ago, our county farm bureau hosted it and we invited all the local fire departments and stuff, and opened it to farmers to come out. I think the one thing that I learned, one, it's don't panic. It's easy to say that than to do it probably, but don't panic when you're in it, is one thing. And then two, the things around the farm that could help save, as easy as a milk crate. I never even remotely thought about walking across grain on a milk crate, and how much that pressure creates, pretty much like a concrete force almost for you to stand on.
Dee Jepsen (29:57):If you don't have milk-
Brenna Finnegan (29:58):When you're rescuing.
Dee Jepsen (29:58):We're rescuing folks or trying to retrieve things that may have fallen into the grain that you need something stable, and if you don't have those snowshoes like maybe those in upper Wisconsin would have, a milk crate or a pallet or something, it does have to fit through that little port and you have to haul that up that really tall ladder. But you're right, that's the kind of practical skills that we teach, right down to the first responders then also learn about flowing grain, the dangers of it, how to use their rescue tubes because that is some of the equipment that maybe the community rallied together and bought this fire department a grain rescue tube but they've never had training on it.
Dee Jepsen (30:44):So when the grain CART is in your area, that CART has three different types of rescue tubes on it. There's not just one kind of tube. So your unit could train with other types of tubes or bring your tube over. We know communities like to buy, and we'll have a pancake dinner or breakfast, or the students have raised money, and then the fire departments, they have it. They didn't even know what it was. It's in their backroom. They're like, "Is that what that was and was so important?" So we're learning things too as we go out into the communities.
Dee Jepsen (31:19):There are grant programs that can buy you these tubes as well. We just came off of grain bin safety week, or grain awareness week, and then we also have a big campaign that's coming up in the spring. It's that first week of April. So we'll be doing a lot of social media, because now is the time farmers are entering their bins to check on it, to unload it and then to clean it. So the cleaning normally starts when? In the late spring towards July. So guess what the new hazard is now while you're cleaning the bins?
Brenna Finnegan (31:54):Dust.
Dee Jepsen (31:55):Grain dust, absolutely. Because we know farmers are in there helping those augers get everything swept out. I have a new toy that we built, that is a grain dust simulator, and we are back in the lab simulating the same kind of grain, whether it's out of condition and moldy, versus good, clean grain that kicks up a lot of dust. We've added the auger system to it. So I have this little mini, 18th of a scale grain bin that we're testing. And the measurements that are coming off of not just the farm, we're trying to replicate it then in our lab, farmers are exposed to very high respirable dust. And the only thing to really protect you from that level of contamination is the N95 respirator or an N99 respirator, or a P100 respirator. So the N95s and N99s, we've learned a lot about those during COVID, haven't we?
Brenna Finnegan (32:57):Correct.
Matt Adams (32:59):Yes, we have.
Dee Jepsen (32:59):Who were they reserved for? They were reserved for essential workers, and so our medical community and our farmers. We worked really hard to let people know that farmers are also essential workers, and it was really hard to get ahold of those N95s there for a very short period of time. I think the supply and demand has now leveled out. They're now more available, so wear those N95s. Those one strap masks that look like a dust mask, if there's just a single strap on them, don't even waste your money. They won't protect you against grain dust.
Dee Jepsen (33:33):And the P100, it looks more like your chemical respirator, that it's a quarter mask. You can wash it and re-wear it, but it has cartridges usually on both sides of the mask, on the left and the right that twist on. So whether you're using them for pesticides or you can buy little HEPA filters, kind of like air filters, and those then, they're called P100 respirators. You can have them for every person on your farm. They eah have their own little respirator that fits then, and then you twist on and twist off those filters. And we found that during the COVID problem of the shortage of respirators, the P100s still had the HEPAs available, the filters.
Brenna Finnegan (34:18):Nice. I worked for not a seed company, well I did work for a seed company before but I also worked for a popcorn company, and one of our requirements within our contract was if you were to store grain on your farm, you agreed to not enter your bin. We got a lot of grief for it at first, but then there were few accidents that had occurred and things like that, and they were like, "I get why you guys don't want us to enter the bin." It was, "Yeah, we want to help protect you." We provided funds towards the stairs going up, rather than climbing a ladder and things. We gave so many dollars per foot, and the platforms, we bought those for the guys and had them installed on their bins at their farms. It was just a neat program to see with a company offering that, like, "Hey, we'll help assist with the cost of this for your safety, because you're providing a product for us."
Brenna Finnegan (35:21):So it was kind of neat to see some of that protection going into play. I do remember climbing up into a bin and a guy had put field corn over top of his popcorn. It had to get vacced out. So there was things he had to go through that we had to work with him on, to help get that all of out of there before he started hauling it into the facility and such. So it's neat to hear all that stuff come full circle within the industry.
Dee Jepsen (35:50):And industry knows those best management practices. That was brought up here earlier. Industry can help and be that role model for this is how we have to work, this is why we work this way. We use lockout, tagout kits. A farmer would be like, "What is that?" Well, maybe some of our industry folks could even show what is a lockout, tagout policy and how they protect their workers. I love that idea, Brenna. That's great.
Brenna Finnegan (36:18):I think at the beginning, the argument was, "I've got to get in there and level it." Then we ended up implementing a coring ... You had to core the bin, so it helped level the bin out, to help that airflow within it. So that's one of the things that-
Dee Jepsen (36:33):There's other practices is what you're saying, and so we can be creative and the grain industry has had to become very creative since 2010 when OSHA implemented the 1910.272 legislation that all grain elevators have to follow. And the grain at first said these are going to be hard practices for us to do. Well, they're now doing them every single day. So can we learn from what they're doing in industry and translate some of that down to our home farms.
Brenna Finnegan (37:05):I remember that, when that came out, because I was at that particular place of employment and they were like, "Phew, we're already doing this stuff." It wasn't a check off the list, it was more of a reiteration of what's on our list of things to do.
Dee Jepsen (37:20):And we do these things why? Because we want to sustain the farm. We're not making your life hard. We're trying to make your life better. So when we look at it from that lens, the cost and the practices are certainly worth our time.
Matt Adams (37:37):Taking that mindset right there, that sustaining the farm, taking care of the operation and the occupants of it, we look at rural stress, mental health, and farm safety for our next generation, our kids.
Dee Jepsen (37:52):Stress has always been on the farm. It's whether we want to acknowledge it or how we're going to deal with it, but-
Brenna Finnegan (37:58):It's the same management.
Dee Jepsen (38:00):It's another management plan. It's touching base with the farmers. I just did a session yesterday, we received some funding through USDA NIFA to increase what we're offering through farm stress. And when I say increase our offering, not to talk to farmers about stress. We can talk to farmers about stress. Farmers know they have stress. But you know who we also need to be talking to are the people who answer those crisis hotlines, who don't know the stresses of a farmer, or the counselors or the therapists. What they need to know is that they can't fix all of the issues that farmers deal with. It is humongous. There's world trade issues involved.
Dee Jepsen (38:43):And when you talk to people, they're like, "World trade issues?" There's climate issues Right. The farmers can't fix the weather. They can't fix the prices that they get. They can't do a lot of things, so we're trying to help the community understand some of the stresses, because then if a farm person wants to call in, they feel that they're talking to somebody who can give them good advice, rather than, "Lady, you can't help me, or sir, you don't know my problem."
Dee Jepsen (39:13):And so what I like to tell farmers when they're like, "I would never call into a therapist, they can't help me." I said, "You know, sometimes you're not calling to get fixed. You're just calling because you're trying to get through a difficult situation. This is not long term. This is something that you just, within two phone calls or two sessions, you've got a different perspective." And if it may not be an actual therapist or a mental health counselor, it could be a person in your faith group. It could be a person in your inner circle. We get a lot of comfort just talking to other people. So it doesn't matter what their certifications are. Just feel free that you can share that.
Dee Jepsen (39:56):But I also call that the farm stress paradox, okay? Why would a farmer, farm lady, farm gal, it doesn't matter what our genders are, right? Why would a person who goes into farming want to admit that it's hard work, it's long work, I'm not getting enough pay for what I'm producing, I don't know the sustainability of my farm or if my kids are going to take it over? So why admit that to somebody? We knew this was going to be a hard life going into it. So the minute that I tell somebody that these are my weaknesses, then they're going to give me solutions or maybe try to talk me out or find a different career path for me.
Dee Jepsen (40:38):So to me this is the farm stress paradox. Farmers don't want to talk about what they've already signed up to do. So we need to have some resources available to keep them farming, and to keep them on the farm, just whether those are financial resources or programs that you can get enrolled in, to talking to lenders who understand now. So that's why I really appreciate this segment here. You're a lender, and we want to keep the farmers as an economic viability in their community. Because again, ag is a big business, and so we need them all.
Brenna Finnegan (41:15):We can go back and give a quick plug for a previous podcast episode that we did, actually too, where we did mental health and discussed that in its entirety. So yes, it is as simple as having one or two conversations, just saying how you're ... Sometimes just talking to somebody and just letting it out of the system, it makes it better-
Matt Adams (41:35):And when you look at it in some terms, fixing something. You don't hesitate to call the dealer when your tractor is broken. Why would you hesitate to call when something on you is not right?
Brenna Finnegan (41:46):How did Nathan put it? What's the number one asset on your farm? It's yourself.
Matt Adams (41:49):It's yourself.
Brenna Finnegan (41:50):You never give yourself the value that you deserve, and when you remove yourself from it, the entire thing goes away.
Dee Jepsen (41:58):I want to also bring light to what's on our website for mental health resources because sometimes farmers don't want to go into their own county. You can drive into any county to receive help. So if you're a little apprehensive of walking into your own community-
Matt Adams (42:14):Somebody won't know you and you don't have that pressure of, I'll see him at the coffee shop later.
Dee Jepsen (42:20):Exactly.
Brenna Finnegan (42:20):You don't want somebody seeing your truck at that particular parking lot.
Dee Jepsen (42:23):Exactly. On our farm stress website, you can access that also. Just pull up our go.osu.edu/farmstress. Or just Google Ohio State University farm stress. We have that resource listed for every county in the state with their phone number, so that you can call a different county if you want to, or if you just don't even know who to call to find those resources.
Matt Adams (42:50):We will have links for all this in our transcript on our webpage, after the podcast. Going onto the next step, talking about our next generation, our youngsters. Farm safety for kids, how should we be teaching this next generation on the hazards of the farm, what to look for and training them right for when they get big enough to start operating with us?
Dee Jepsen (43:14):It does start at a young age. A lot of farm families, parents, they feel like their kids are great, you know? It's the neighbor kids that don't always know it. So what are we teaching our own children? We're teaching them to look both ways when they cross the street, to wear a seatbelt when they're in a tractor, just like they would wear a seatbelt when they're in the car, to wear that helmet on their ATV just like they would on their horse. I think this generation and these young students are brought up with a better safety mentality and mindset, because if you're fortunate enough to be able to afford that brand new four wheeler for those kids, buying that helmet and forcing that just brings along that safety culture.
Dee Jepsen (44:05):And then we have to role model that, as parents, and if we have farm rules, and it's not policy but you have these guidelines, just like we have, you have to clean up your dishes, make your bed. You also have to be safe when you're on the farm or you have to practice safety when you're out there. Teaching-
Brenna Finnegan (44:22):Shut the gate. Shut off the water.
Dee Jepsen (44:24):Right. Those little things to help the farm management, but then also the reasons why. So a lot of our farm safety programs don't focus on the don't, don't, don'ts. It's, this will happen when. So if you do make a mistake, it's serious on a farm. It's not just like, you're going to have a small boo boo. You're going to have a big boo boo. And I think farm kids realize that. And they are so close to mother nature and they see the harshness of what weather does, or what livestock can do for an injury. So they can grasp bigger concepts, so just keep teaching those same concepts.
Matt Adams (45:05):It's that big teaching effect. I'm a farmer, I have three young children at home. I need to teach the best practices myself. If I'm not putting my seatbelt on, if I'm not doing lockout, tagout, if I'm not following them procedures, little kids, they're always watching every move dad makes. If I'm not doing it, they're saying, "If dad doesn't do it, I shouldn't have to do it, right?"
Brenna Finnegan (45:26):I don't know what that step is because I've never seen it done-
Dee Jepsen (45:29):Or it's a rite of passage. When I get old enough, I don't have to do this.
Brenna Finnegan (45:35):Shifting gears here just a little bit, you work with an agrability type program. Tell us about that and what it is.
Dee Jepsen (45:42):Yeah. So agrability, it's spelled A-G-R and then ability, A-B-I-L-I-T-Y. Agrability. It is a program that will help farmers stay farming after a disability has occurred. Now whether it's a physical disability like you were in a car crash or you have a knee replacement or a new hip and you can't physically get in and out of your equipment, or you have some chronic long term health conditions, I'm going to throw arthritis in there, because we all have aches and pains, right? So agrability, it can help with amputations, loss of sight, some of the larger disabilities, but it can also help with some of just the day-to-day disabilities and the aging that we are incurring. Our farmers are getting older, you know?
Brenna Finnegan (46:34):The average age, yes.
Dee Jepsen (46:35):Average age keeps going up. So this program, again is on our website. If you need someone to come to your farm and give you a farm assessment of what are you trying to do, what pieces of equipment do you need in and out of? What type of new machinery could you use? Could we retrofit a UTV that could be a better work vehicle for you to go out and check your cattle or your herd or your fence lines? The program is farm friendly, in other words, it's going to meet you where you are. And if you would like then to extend that to seeking help, there is a state agency in Ohio that will help for other occupations and keep people involved in their vocational rehabilitation process.
Dee Jepsen (47:25):Our program then is that liaison to that agency, and so there are some opportunities then for farmers to submit to that agency to get financial help and modifications made to their farm. But not every farmer takes it to that level. Farming with a pacemaker is one of our fact sheets that we talk about. If you now have a pacemaker, there are certain chores that you should not do on the farm. So we publish all of this information it's on our website as well.
Brenna Finnegan (47:57):Never thought about that.
Dee Jepsen (47:59):It's when farmers and farm families incur those big moments of their life and they think that now they can't farm anymore. This program says we're going to do our best to keep you farming, keep you safe also farming.
Brenna Finnegan (48:15):So an example, okay? Years ago, my dad got hit by a car at an accident scene for the fire department. A car came through and hit him and his foot had been pretty much kind of ripped off from his leg and then put back on. He has it now fused. His ankle is now fused, and he can't flex that ankle to do some of the foot pedal controls, like on say our skid steer. If I had somebody come out to look at our skid steer so that my dad could use our foot pedal …
Dee Jepsen (48:47):What we might say Brenna is let's change that foot pedal to a hand control. We have these little, I call them recipe cards. We go to this huge database of equipment that has been modified. We say, "What is your make? What is your model?" We plug it in. We say, "We could change this left hand control to a right hand control." So we could change the pedal to the left, to the right side, or we can make them hand controls. We can do this with a lot of different equipment. The great thing about agrability is that it's a national program. So maybe we could learn something, what happened in Nebraska with a grower who has a certain piece of equipment, and now all the sudden we're like, "Hey, we could reach out to that person."
Dee Jepsen (49:29):So it's a people serving program and it doesn't cost the farmer anything to give us a call. It doesn't cost the farmer anything to get involved in the program. There is a no cost. We don't fund a lot of the technologies that we recommend. We just say this is what could be available to you. So then that farmer makes the decision of whether they want to increase the lighting in their shop. We know now LEDs are so much better and brighter that we don't have to work with these dim lit areas. Let's transfer that to our feeding rooms, and let's transfer this into some of our other areas that we work.
Brenna Finnegan (50:07):So instead of the farm retrofitting process that you used to do by yourself, you're changing something to make it work for yourself, having somebody help you go through it and have it done properly so that there isn't another injury that occurs or something like that, correct?
Dee Jepsen (50:23):Correct. The great thing about this program is that occupational therapists are really interested too. So it's not just us safety people that are looking at how do we make things safer, we're looking at the body mechanics. We know farmers wear and tear. So we have little programs on our website for safe lifting and proper lifting. You young people out there, you talk about those young kids, let's teach them how to lift properly-
Brenna Finnegan (50:48):She still considers us young.
Matt Adams (50:49):You lift with the arms, right? That's all you use, right?
Dee Jepsen (50:54):You were bringing up, what do we train our young kids? Let's teach them how to lift properly and not twist around, and lift with the legs when we're carrying feed sacks. When I go to pick up feed at the store, when I'm sent into town, Brenna you're telling on yourself. I'll give a story about myself. When we call and order feed, they'd say, "Who's picking it up?" Because they know if Dee's picking it up, they'd better be in 25 pound bags-
Brenna Finnegan (51:20):I need to tell my guy that.
Dee Jepsen (51:22):They don't have to be in 50 pound to 100 pound bags. So the feed store now recognizes that we don't have to lift all of that. They make more bags, you know? And you can fill them. And that doesn't mean you're weak. That just means you want to be able to have energy to go home and unload it and do something else that day.
Brenna Finnegan (51:43):It's really funny you brought up that, because just like two weeks ago, I was at my chiropractor's office and I was like, "When I get done, I've got to go unload 1000 pounds worth of bags of feed." And they're every bit of 60 pound bags of feed-
Matt Adams (51:56):And I'm sure he said, "Well, I'll see you next week, right?"
Brenna Finnegan (51:59):Yes, exactly. It's like job security right there for them. Exactly. And every time I unload it, I think I should say something. I should say something, and I don't. I never do.
Dee Jepsen (52:09):But they don't care, and they'll grumble but they'll fill it up. I used to tell them, "Who's paying this bill?" If I'm picking it up, now all the sudden if my husband calls in to order the bags …
Brenna Finnegan (52:22):It's always Dee's picking it up.
Dee Jepsen (52:23):Dee's picking it up. So I'm like uh-huh (affirmative). It's okay, blame it on the farm wife, and it's okay.
Brenna Finnegan (52:31):The minute I get home, I've got to go down the steps into the bank barn. We retrofitted those from the farm, so we probably should have that checked out too.
Dee Jepsen (52:38):Exactly. And then also getting back to those OTs, have occupational therapists give us some ideas for farm life and ergonomics. We had a graduate student, I'll give her a shout out, Brittney Calgil. She helped us write a publication called farming from a wheelchair. And when you start to look at what's the best wheelchair to put out on the farm, all of the sudden, the farmer or farm family member needs to also be on the farm and has a chair, regular rehabilitation counselors don't always understand what kind of terrain a farmer might be on, or how they need to traverse.
Dee Jepsen (53:20):So I'd give a shout out to our state agency. It's called opportunities for Ohioans with disabilities, and they have worked long and hard with us in agrability to recognize some of this. Their counselors are really good. They're in every county. Track chairs are popular on the farm, and standing wheelchairs, okay? Our state allows that to be an assistive technology device for that farmer, and other states are asking us, how did you get a wheelchair that stands up? So the seat comes up out of its frame, and then the farmer is strapped in and standing there, whether it's a track chair or a wheelchair, but to get that heighth is good for several reasons, right? Blood flow and circulation.
Dee Jepsen (54:17):Now the farmers can actually reach to change their oil, to do some of their maintenance, work at their shop bench. You know what else? They can look you in the eye and they can talk to you one on one, and now we're getting back to that mental health and how you feel as a farmer that just because you have a disability does not take anything away from you as the farmer or what you contribute. And so, this is one of the advocacy programs that our agrability project has. We want every farmer to stay farming as long as they want to stay farming-
Brenna Finnegan (54:50):There job isn't over yet.
Dee Jepsen (54:50):Yes.
Matt Adams (54:50):That is very exciting stuff. Dee, we want to thank you for being part of this with us. A ton of good information. We will post links to everything for you guys on our website, and we just want to thank you again. This is Matt here with Brenna, and we're going to sign off now, and we'll catch you on the next episode of AgCredit Said it.
Voiceover (55:15):Thank you for listening to AgCredit Said It. Want to talk ag in between episodes? Follow us on Facebook, Twitter and Instagram at AgCredit. For more tips and resources, visit AgCredit.net and be sure to subscribe to the show in your favorite podcast player. Catch you next time.