Episode 38: Essential Farm Loans You Should Know About with Scott Parker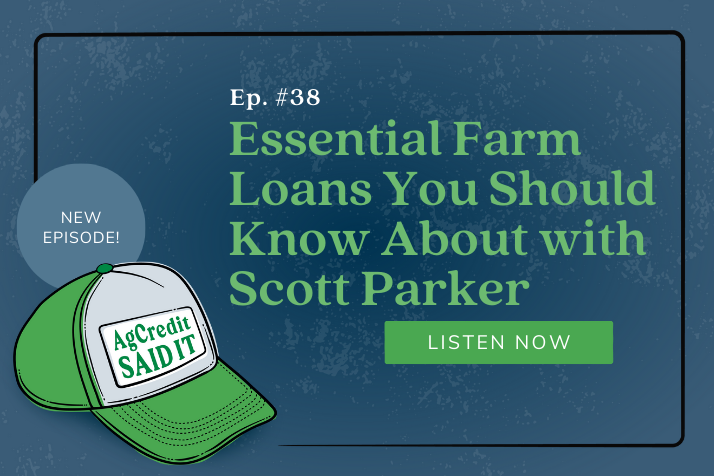 In the agricultural industry, accessing the right financing options is crucial for farmers and those looking to invest. Farm loans can help you expand your operations, enhance productivity, and help you achieve your financial goals.
Scott Parker, a senior credit manager at AgCredit, guides us through the world of farm loans to shed light on the benefits and considerations associated with farm-related financing options. Whether you're just starting out or an experienced farmer, understanding these loan options will equip you with the knowledge to make informed financial decisions for your operation.
Here are the seven types of farm loans you should know about:
1. Land Loans
When considering land loans, the functionality of the property, it's income potential, and how it will benefit the farm operation's profitability are all assessed. Your cash flow will be taken into account to develop a payment plan that aligns with your financial capabilities.
Whether you're a first-time farm buyer or a seasoned farmer with additional assets, the loan options can be tailored to fit your specific needs and the loan terms offered can vary based on your goals and future plans for your operation.
It's also important to keep in mind that unexpected opportunities to purchase land may arise, so striking a balance between term length and payment affordability is crucial.
2. Equipment Loans
When it comes to equipment loans, there are a variety of options available. AgCredit specifically has a dealer program called Farm Credit EXPRESS, as well as a partnership with Farm Credit Leasing, which provides access to top leasing products.
The typical term for equipment loans is around five years, but as equipment has become more specialized and expensive, longer terms of up to seven years are considered, especially for larger assets like combines and newer planters. For used or specialized equipment, the term may be slightly shorter but still typically not less than five years.
Leasing is also an option that provides a fixed cost, which is great for keeping up with the latest technology. It can also be beneficial for operations focused on cost per acre or cost per hour.
3. New Construction & Farm Improvement Loans
Whether you're looking to build a new farm building or make improvements to your farm, when it comes to new construction and farm improvement loans, the investment's impact on your bottom line and cash flow situation will be considered.
Under this loan type, livestock barns are also a significant focus. The loan terms vary based on the project's size and specific circumstances, but for field tile projects for example, loan terms can extend up to 20 years, while pole barns and machine sheds typically have terms ranging from 10 to 12 years.
4. Farm Vehicle Loans
As long as you meet the criteria of just $500 of gross farm income, AgCredit can provide financing for farm vehicles that aligns with your agricultural income or assets. This can include trucks, semis and trailers.
While the terms and pricing may be slightly more conservative for these assets compared to tractors and combines, the loan duration typically ranges from five to seven years. Additionally, vehicle loans are eligible for patronage and can be modified if the rate environment changes.
5. Operating Lines
Operating lines offer flexible terms to fit your specific needs as a farmer. The typical operating loan has a duration of 12 months, aligning with the operating cycle of crops or livestock. In certain cases, such as raising cattle, which may take longer than a year, the maturity of the loan can be extended. However, the maximum maturity for operating lines is usually three years.
6. Grain Inventory Loans
Grain inventory loans serve as a valuable tool for farmers, especially during year-end tax planning. These loans allow you to access capital needed to purchase inputs and reduce taxable income without having to sell grain.
Additionally, AgCredit participates in the Ohio Ag-LINK loan program, offering cost savings to our members through favorable interest rates. In today's changing interest rate environment, it's important to consider the cost of carrying grain and explore opportunities to save money.
7. Rural Home Purchase & New Construction Loans
Lastly, if you're looking to purchase or build a rural home, there are financing options for both. Available for non-farmers as well, AgCredit can provide these loans for those who don't live in a town or city with a population greater than 2,500.
To learn more about these farm financing options and more, listen to the full podcast episode featuring Scott Parker. As part of AgCredit's commitment to serving rural America, we understand farmers have specific needs. We're here to support your agricultural investments. Feel free to reach out to an AgCredit loan officer to inquire about your financing needs.
Here's a glance at this episode:
[01:36] Scott shares how he got into the Farm Credit System and his background in agriculture.

[04:10] Scott explains the basics of land loans.

[07:04] Scott answers some frequently asked questions about equipment loans.

[12:36] Scott goes through the farm improvement and livestock barn loan processes.

[16:31] Scott shares more about farm vehicle loans.

[22:36] Scott discusses the typical terms for operating lines.

[23:52] Scott explains what grain inventory loans are.

[27:23] Discussing farm-related businesses, Scott explains the qualifications.

[30:42] Scott explains AgCredit's rural home purchase and new construction type loans.
Resources mentioned in this episode:
Connect with AgCredit on Facebook, Twitter and Instagram
Share questions and topic ideas with us:
Email podcast@agcredit.net
Bios
Guest
Scott Parker is a Senior Credit & Regional Manager at AgCredit. He's a life-long Farm Credit System employee. He helps his dad and brother on their family farm in Seneca county when he can.
Transcription
Voiceover (00:08):Welcome to AgCredit Said It. In each episode our hosts sit down with experts from all parts of the agriculture industry to bring you insights and must-have information on all things from farming to finances and everything in between.
Matt Adams (00:26):Well, hey, guys, welcome back to another exciting episode of AgCredit Said It. I am Matt, here with Libby again. Libby, I'm going to call us the A team now, that way I just make Phil and Brenna work for it just a little harder going forward. Hey, we got a great episode today, Libby. So, I guess, first off, a little catch-up. How's things going?
Libby Wixtead (00:48):Things are going well. A lot of fields have been planted down my way and guys are starting to finish up, so that's been really exciting. The weather's been great. Yeah, I'm just excited to finally see planting gearing down a little bit our way.
Matt Adams (01:06):I tell you, this has been one of those planting seasons where everything's just going in almost too nice.
Libby Wixtead (01:12):Right.
Matt Adams (01:13):I was talking to a member the other day and he said, "When things go in too nice, it just means we're in for something." I said, "Where's that eternal optimism that all farmers have?" He says, "I've been doing this." He said, "This is my 37th year doing a planting season." He said, "My optimism keeps getting less and less every year."
Libby Wixtead (01:32):But yeah, you still keep doing it every year.
Matt Adams (01:35):That's right. That's right.
Libby Wixtead (01:35):Right?
Matt Adams (01:36):Well, Libby, I guess we'll get into it today. So, why don't you go ahead and introduce our guest and what we're talking about today.
Libby Wixtead (01:45):Yeah. So, we are very lucky today we have one of our own AgCredit employees, Scott Parker. He is our senior credit and regional manager. One of them, I guess I should say. And Scott, do you just want to give us a little bit of background and tell us a little bit about yourself and how you came to AgCredit?
Scott Parker (02:04):Yeah. Sure. Great to be here. Glad to be able to be on my first podcast with AgCredit Said It. And I'm going to be with AgCredit here almost four years in October. Been a lifer in the Farm Credit System. Did an internship in college and been in the Farm Credit System ever since. So, it's the only thing I know.
Matt Adams (02:26):Scott, what made you want to get into the Farm Credit System? What caught your eye about everything we do?
Scott Parker (02:33):Yeah. So, never really dawned on me in high school. Went to college to be a golf course superintendent.
Libby Wixtead (02:40):Oh, wow.
Scott Parker (02:41):That didn't work out right away. Switched majors right away but went into business, wasn't sure what I wanted to do. I grew up on a farm, I liked farming, but I wasn't really ingrained into it. But as I got into the finances in college, something I liked, and then an opportunity came up to do an internship with the Farm Credit System and it just clicked and it made sense. The biggest thing is working with the farmers. A lot of my friends growing up were farmers. A lot of the older people that I'd seen were farmers and respected, and they're the reason why I got into it.
Libby Wixtead (03:24):Sounds like we've had a trend here a little bit. We start off in one major and then quickly switch to another one. So, I guess my question is, are you an avid golfer then?
Scott Parker (03:36):When time allows. Yeah. Or, if my back's not thrown out.
Libby Wixtead (03:39):Right. Or, when your wife gives you permission, I guess, because that's what I see on all the reels.
Scott Parker (03:46):She supports it. She doesn't give me permission.
Libby Wixtead (03:48):She supports it.
Scott Parker (03:48):Yeah. Right.
Matt Adams (03:49):So, you said you grew up on the family farm, Scott, family still actively farming, are they?
Scott Parker (03:53):Yes. My dad, my brother and myself, we farm together. My dad and my brother do most of the heavy lifting and I just help out when I can.
Matt Adams (04:01):That's great.
Scott Parker (04:02):Seneca County, right on the Seneca County line, a little over 1,000 acres row crops and my brother's got a cow calf operation.
Matt Adams (04:10):Okay. Well, that is great. So, that's what we want to cover today, Scott. So, I guess, our first question, the bread and butter of AgCredit, land loans. I mean, I guess we'll get into the basics about this, Libby, a little bit. Tillable, bare ground, some ground has woods on it. We have some with improvements on it, whether it be a grain facility, pole barn. I guess, go into the basics, Scott, on when we do our land loans, what do we look at?
Scott Parker (04:38):Yeah. When we look at the functionality of the property, its income potential, how it's going to benefit the farm operation from a profitability standpoint. And then, you really back into how does the loan fit with a payment plan that's going to fit the cash flow of the borrower?
(04:54):We have borrowers that buy their first farm, that are going to need maybe help with our AgStart program, or that seasoned farmer that has a lot of other assets paid for, that's going to help pay for that asset. So, it really gets down to the income potential of the farm or just the utility of it. Buildings don't necessarily add income but they add efficiencies and maintain equipment, and it just makes sense to invest in those types of things, whether it's a construction of a new facility or purchasing existing property that has a machinery barn on it.
Matt Adams (05:30):Right. And I think like you said too, we have different term options and stuff, we can work with that producer whether they are our AgStart, our beginning farmer, or our seasoned farmer. And that seasoned operation doesn't necessarily mean that we want to have a shorter term because it's a seasoned operation, it may be a large purchase and that's where we collect everything. I want to say, I guess we recommend what that best term and fit for that operation is going to be.
Libby Wixtead (05:59):And I think sometimes it's the goal of the operation that you're also looking at, too. When you're thinking of real estate loans, you're thinking of longer term loans, typically. And sometimes I think it's okay, what's the goals of the operation? What are we looking at into the future? Is there succession planning into it as well? So, going on, yeah, they could be seasoned and we do shorter or we do longer. I mean, there's just a lot of flexibility there, I think, on that.
Scott Parker (06:26):That's a great point, Libby. And while all farmers hope to have lots of opportunities to buy real estate, for most of our members, that's maybe one, two, three times in their lifetime they get an opportunity to buy a farm. So, you really can't predict when that's going to happen all the time. So, you don't want to give yourself too short of a term and too hefty of a payment when opportunities may come up that you didn't expect.
Libby Wixtead (06:49):Right. That farm across the road or right next to you that-
Matt Adams (06:52):Yeah, because how many times do you hear it anymore that, "Hey, this is the only time it's ever going to sell in your lifetime, basically."?
Libby Wixtead (06:59):Right.
Matt Adams (06:59):I think I hear auctioneers say that now at some sales, just to drive up that price a little bit.
Libby Wixtead (07:04):Anything that can get that price, right, keep it going up? Okay. So, talking about our land loans, can we go on to equipment loans? We have an array of options for equipment loans, from having a dealer program to even leasing, if that makes sense, can you speak a little bit about those?
Scott Parker (07:28):Absolutely. Equipment purchasing is not just something we do in our backyard, it's worldwide. People are buying equipment all across the country and they expect quick decisions and the person selling the asset expects their money pretty efficiently as well.
(07:44):So, point of financing and opportunity is something that we're very aware of and that's where our Farm Credit EXPRESS program comes into play with the dealers in Northwest Ohio and surrounding areas. As well as our new partnership with Farm Credit Leasing. Farm Credit Leasing is probably the premier leasing company in the country. It's part of the Farm Credit System and provides us access to the latest and greatest leasing products for equipment.
Libby Wixtead (08:14):So, I have a lot of questions from customers on terms for equipment loans when we do that. What typically makes sense for an equipment loan when we're looking at terms, what do we consider when we're thinking about the terms of an equipment loan?
Scott Parker (08:34):Yeah. Look, the bread and butter average is five years for most equipment, but as equipment's gotten much more expensive and much more specialized, we definitely look at it a little bit more now than maybe we did five, 10 years ago. We'll look to go seven years on some equipment, especially larger assets, combines. Even some of the new planters, especially if they're newer, three years or less, we're more inclined to go a little bit longer, six, seven years.
(09:05):If you get into more used assets or very specialized assets, we could look to go even a little bit less than five, but typically, not much less than five.
Matt Adams (09:14):And Scott, you're talking about the increased price on our equipment that we're seeing now, and I think that's where our leasing is really going to start coming into play where we can... In my mind, as a farmer too, I look at a lease payment, and I guess you can go more into this, to me it's a fixed cost at that point. I know exactly what that piece is going to cost me here. So, now it's a fixed cost just like my fertilizer and my seed.
Scott Parker (09:38):Right. Yeah, leasing, it's been around forever, but most of the time the tax laws have driven whether leasing is in vogue or not.
Matt Adams (09:48):Okay.
Scott Parker (09:49):And lately, with the Section 179 and the bonus depreciation, it really hasn't been used a lot on the leasing side, but there's multiple situations where leasing still makes sense, and it gets down to knowing what your fixed cost is. A lot of operations use leasing to get their cost per hour or cost per acre down to a certain level, because the lease does typically provide you the lowest cash flow payment. It may not be the cheapest ownership avenue, but if you're just looking at trading that stuff off every two, three years and you're really focused on, "What's my cost per acre or cost per hour?" That's where leasing can become advantageous.
Matt Adams (10:33):Well, and you look at it too, on a general lease, as fast as technology is getting into this equipment now, you can keep pretty well up on your technology and keep the latest and greatest on the farm for the most productivity.
(10:49):So, we talk about our dealership level financing, the Farm Credit EXPRESS, and just for maybe somebody out there that doesn't know. So, when we talk about Farm Credit EXPRESS, that's one thing, I think, that people don't realize that it is served by the association. It is not a third-party type thing. We handle the loan, just as we would any one of your other loans.
Scott Parker (11:14):Correct. Yeah, it 100% comes back to the office to service that account and you get all the benefits of patronage and note modifications. So, if rates go down you can call up your local AgCredit loan officer and get a better rate. So, in that way it's essentially just an extension of your loan officer, it's just more efficient. Efficiency reduces costs, which reduces interest rates.
Libby Wixtead (11:41):And I just want to point out that that is not done through the AgCredit office. That is done through the dealers that are signed up with that program.
Matt Adams (11:49):Yes.
Libby Wixtead (11:51):Just to clarify that piece of it. And we'll also, what we'll do is we'll put a resource in our show notes where you can find dealers that are signed up for Farm Credit EXPRESS, for those that are interested in looking into who those dealers are and can ask for it when they go in there.
Matt Adams (12:10):And that fast pace that we talked about, it is really a pretty quick turnaround from the time a dealer submits that application to the decision and paperwork being finalized. So, it's a, you need that tractor, you need that planter, we can make it pretty quick for you.
Scott Parker (12:27):Yep. And they just got approved to do DocuSign, so electronic signatures. So, that makes it even faster.
Libby Wixtead (12:34):We like to hear that.
Matt Adams (12:36):Okay. Next question I got here, Scott, for you. We look at different loan programs, again, farm buildings and new construction and maybe even go into farm improvement loans. First farm improvement loan that comes to my mind is tile loan. There's a lot of times we'll do tile loans for guys. Can you dive into the basics of what we look at on farm building, construction, and some of the terms on that?
Scott Parker (13:04):Yeah. Follows the same thought process as land loans in terms of looking at what the investment is, how that's going to affect your bottom line positively or negatively, and then, how does it fit into your cashflow situation.
(13:18):For a field tile, depending on how big the project is, we could go up to 20 years on something like that. Most of the time it's 10 years, but we can go longer. Same thing with pole barns. Most of the time we see pole barns, machine sheds in that 10 to 12 year range, but depending on the size of the project and just the situation, we could go farther, as long as we have other real estate collateral to support it.
Matt Adams (13:41):Right. And one thing, I think, especially you talk about the tile loans and stuff, and even if we're putting that barn up on a current piece of farm ground, the value of it increases. Any of these improvements we're doing is going to increase the value of that collateral.
(13:57):Even livestock barns, that's a big part of, I would say, what we do as an association is new livestock barn construction too. Terms on that, Scott, look about the same as what we do on the rest of our construction loans?
Scott Parker (14:13):Yeah. Like the equipment loan conversation, those costs haven't went down.
Matt Adams (14:17):Right.
Libby Wixtead (14:17):Absolutely not.
Scott Parker (14:19):10, 15 years ago we could get away with a 10 or 12-year loan on a hog confinement building or turkey barn and the additional cost and just everything else we were able to go 15, 20 years in some of those cases.
Matt Adams (14:36):And that's the crazy part right now when we look at equipment and just building construction. When's it going to end? And even the producers we're working with, we talk about overage and what we're going to figure in on this, because you always know something might come in a little higher. I mean, it's just a constant uptick on the cost to build these facilities anymore. And along with it is new technology that we talk about.
(15:05):A hog barn, and Libby you can speak from experience with your guys', a hog barn is just not just a steel building with curtains on the side.
Libby Wixtead (15:13):Right.
Matt Adams (15:13):There is a ton of technology that goes in these barns and it comes at a cost.
Libby Wixtead (15:17):Yeah. And our barn is 17 years old so it obviously doesn't have the technology that they have in there today, but it is, it's adding up. And then just the cost of concrete, especially with these contract barns, is the amount of concrete that's going into it, that's really increased the price.
(15:37):And also have to take in consideration, what does the cash flow look like with these livestock barns because of the increase in the cost, are they cash flowing out? And that's a pretty big thing to think about, especially if you're a young beginning farmer, which a lot of people that are putting those barns up, are.
Matt Adams (15:57):Yes.
Scott Parker (15:59):We talked about leasing on equipment. Leasing for farm improvements, real estate improvements, is moreso in demand than leasing on equipment. Adds a little bit more of a tax advantage, even with today's more liberal write-off requirements. But there's just some side benefits of leasing on buildings and facilities that you would definitely want to consider when you're looking at those projects.
Matt Adams (16:26):Anytime we can take advantage of those tax write-offs and deductions is always a big plus.
Libby Wixtead (16:31):Yeah. Absolutely. So, one thing we've touched on farm buildings and that, what about grain setups? Is that following through on the same as tile and the farm buildings? I guess that's another question that we get as well with all the improvements.
Scott Parker (16:51):Right. Yeah. Pretty much so it falls in line, again, those assets have ramped up in price quite a bit and you're not going to see as good of a dollar for dollar. If you spend a dollar, you're not going to get a dollar of appraisal on a grain facility, like you maybe would on tile still. So, the bigger the project gets, that could play into some additional collateral needs, and just looking at the cost benefits of that investment.
Matt Adams (17:19):Again, all this goes back to whatever loan requests that we get presented with as account officers of the  association, we will analyze all that and know exactly what you're going to need to bring to table. And there again, it goes back to that relationship lending, fitting the best loan product for the requests in front of us.
Libby Wixtead (17:42):And I think the good thing to know is there's so many options. We just have an array of options that we can come up with for these types of loan requests that we're getting. And that's the benefit of being a member of the Farm Credit System.
Scott Parker (18:01):Absolutely. I firmly believe that if someone's looking to make an investment, purchase or construction, or whatever it may be, if it fits into the operation, it fits into the cash flow, there's almost always a way to make it work.
Libby Wixtead (18:18):Okay. So, yes, that is a very good point, Scott. And I would like to talk a little bit about farm vehicles. Are we able to do any-
Matt Adams (18:31):So, here's the scenario. Libby wants a new convertible to drive around to the fields.
Libby Wixtead (18:38):No, just to the pig barn. To the pig barn. Right?
Matt Adams (18:38):To the pig barn.
Libby Wixtead (18:42):I can pull a trailer with pigs, right, with my convertible?
Matt Adams (18:46):That's why it's open top, you can just fill them up in there, see.
Libby Wixtead (18:49):Or, how about a Gladiator? Do Gladiator.
Scott Parker (18:51):Yeah, a six-seater side-by-side.
Libby Wixtead (18:55):What options do we have on farm vehicles?
Scott Parker (18:59):Yeah, plenty of options. Essentially, if you're a farmer, which it only takes $500 of gross farm income to be considered a farmer, we can provide pretty much any financing you need that aligns to your ag income or ag assets that you own.
(19:14):So, for our farm borrowers, that's a full slate of personal needs that they may have, business needs, non-farm business needs, whether it's a rental property or a commercial business, commercial real estate, we pretty much have the ability to finance all those needs. Part of our purpose in the Farm Credit System is to serve rural America and that's how it fits into that, because a lot of those investments into the non-farm businesses that need to serve rural America. And then, farmers need vehicles, whether they're for the farm or for personal, or buying a vehicle for their kid, going to college. Those are all things that we're supporting that farm family.
Libby Wixtead (20:02):So, that goes into any trucks, any semis, any trailers, anything like that. And again, does that fall under the equipment loans type of terms, you would say?
Scott Parker (20:16):Yeah. We don't know some of those assets as well as we do tractors and combines. So, we may be a little bit more conservative in our terms and pricing on those, but pretty much the same, five to seven years.
Matt Adams (20:29):And one thing to point out on these too, even with our vehicle loans, they are available for patronage and they also will be under if the rate environment changes and we can do note modifications to help on those rates, especially currently in our higher rate environment where it might seem it's a little higher right now. So, we have the same options to service these loans, the same as our real estate and our other loans.
Scott Parker (20:59):Right. Yeah. One thing we do, we look at what that asset's going to be used for. So, for some people, they're using it as a personal vehicle. Most time repayments maybe come from a W-2 job, so we'll put that on monthly payments. Or, a semi that's on the road weekly, it's an earning income monthly, so it makes sense to put that loan on a monthly payment. So, that's some of the things we may do a little bit different on a vehicle.
Libby Wixtead (21:23):So, just matching the cash flow with whatever the-
Scott Parker (21:26):Yeah. Yep. With the asset.
Libby Wixtead (21:27):... the equipment is. Yep.
Matt Adams (21:29):So, Libby, yes, go to the dealer, go pick out your vehicle and we can write it up for you.
Libby Wixtead (21:34):All right. I'll tell Adam we can go buy the Gladiator.
Matt Adams (21:38):Hey, this has been great stuff. We're going to take a quick commercial break and we will be right back here on AgCredit Said It.
Libby Wixtead (21:45):Hey, everyone, this is Libby and Matt and we just wanted to talk to you guys a little bit about our digital banking. If you're a member of AgCredit, managing your account online just got easier, more convenient and better than ever. Our new digital banking platform is now available.
Matt Adams (22:01):Be sure to register so you can manage your loans on the go. Visit agcredit.net and click on the digital banking icon at the top right of the screen and get started.
Libby Wixtead (22:10):Let's get back to the show.
Matt Adams (22:14):All right, guys, we are back with Scott Parker, senior credit and regional manager for us. I was close, our little employee spotlight, like Libby said, we were talking earlier, first time for Scott on here, but we're going to definitely make sure we get him on here for a few more things. We'll get all kinds of interesting topics to go over.
(22:36):So, talking about our different loan products, Scott, let's dive into operating lines. What terms do we look at on our operating lines? Obviously, we can do them for crops, we can do livestock lines of credit, too. I guess, go into the basics of what we look at our operating lines and terms on that.
Scott Parker (22:56):Yeah. Typical operating loan will be for 12 months to meet the operating cycle of what it's supporting, whether it's row crops or livestock. Sometimes with livestock, especially the cattle, it takes a little bit longer than 12 months to take that feeder calf to finish. So, we know we have to keep that in mind.
(23:15):But depending on the situation and the credit needs of the borrower, we can put the maturity out there over one year, usually no more than three, just to save on some of the paperwork, if they've proven that they can revolve it, they manage that. They only use it for what it's supposed to be used for, which is the farm operation. And if they do use it for capital, they let us know, and then we can get it termed out so they don't run short on working capital. So yeah, one year, typically.
Libby Wixtead (23:41):Can you talk a little bit about grain inventory loans and what a grain inventory loan is and what we can do with those types of loans?
Scott Parker (23:52):Yeah. So, we know tax strategy is a big thing at the end of the year for all our members and a lot of farmers carry over grain each year and they need to buy more inputs before year-end for that tax savings, but they don't want to sell their grain. So, the grain inventory loan is a great tool for us to provide the farmers the capital they need to get those inputs bought, to reduce their taxable income, and not extend the amount too far on their normal line of credit.
Libby Wixtead (24:21):And that is, like Scott said, a really good tool to use, especially at year-end when you're prepaying or whatever your operating needs are at that time.
Matt Adams (24:30):And one thing to keep in mind too, guys, on our operating lines is we as an association are participating in the Ohio Link Loan program, which is a good cost savings for our members that we can work with the state of Ohio to get, I want to say, the ease of the high variable interest rates right now. So, that's a program we're going to continue with and it's just been a great savings to our members.
Scott Parker (24:55):Yeah, that's a great point, Matt. About 2% savings is what we're seeing on the link loan compared to the prime rate. We hope the government's done raising the Fed rate, which coincides with your prime interest rate. And frankly, the last six, seven years interest rate on your line of credit really hasn't been something we've had to pay attention to because it's been so low.
(25:16):And now, farmers need to really look at what's that cost to carry that grain? They can sell it but then defer the income, but if they want to hold onto that grain in the bin and they can't pay down their line of credit, they've really got to pay attention to that now. So, it's just a little bit different dynamic and everywhere they can save a little bit of money, it's going to add up.
Matt Adams (25:38):Oh, yeah.
Libby Wixtead (25:38):And just explain a little bit more on the link loan. You do have to have an operating loan to obtain a link loan, and the link loan is not another loan, it's just connected or linked to your normal operating loan. We participated in this program in the past, but I think we have a lot of customers who did not have link Loans in the past. So, that's just something too, a little explanation of, you do have to have an operating loan to have a link loan.
Matt Adams (26:08):So, I've got a question here for you, Scott. Just thinking with a lot of our younger members out there, a new producer comes in, "I want a line of credit. I'm farming," let's just say, "150 acres." If he says, "I don't know how much I need, just set something up." How do we go about helping that member figure out what we need for an operation?
Scott Parker (26:29):Yeah. Just ask a lot of questions. That's where we always start. But really, it just depends on what crop they're going to be planting. Are they renting the ground? What are they paying in cash rent? When's the cash rent due? Is it due in the spring? Is it in the fall? Are they going to utilize a program with Pioneer, or a local co-op for some of their input needs? And that all drives back to what we're comfortable lending, because the biggest goal is to make sure that we understand what the borrower needs and what their expectations are.
Matt Adams (27:03):So, what he said there, to all our young guys out there is, do your homework, work with your account officer, but we have a lot of tools at our access, as your lender, to help with those projections. And you give us all the information and we will come up with a plan and set you up right.
Libby Wixtead (27:23):So, let's talk a little bit about farm-related businesses. What qualifies as a farm-related business?
Scott Parker (27:34):Yeah. So, farm-related business, and then processing and marketing are two categories of farmers that we know of, because a lot of farmers do it. And then the farmer's obviously eligible as a part-time farmer that may do a farm-related business or a farm-related service.
(27:50):But there are also those people out there that aren't farmers but they provide services to farmers or they process agricultural materials. So, a farm-related service business could be a trucking company that hauls exclusively agricultural products for farmers, whether it's fruits and vegetables, grains. Custom spraying is another common farm-related service we see. And then animal bedding, we have a customer that processes timber into animal bedding and rides that and then hauls that to the actual confinement facilities. So, that's another service. So, anything that directly helps farmers and it's paid for by farmers basically could be considered a farm-related business.
Matt Adams (28:34):Farm-related business. Yep.
Libby Wixtead (28:35):So, it's direct into the producing of whatever their agricultural product is.
Scott Parker (28:41):Right. If they're just selling an ag product to a farmer that's not a service.
Matt Adams (28:45):Gotcha.
Scott Parker (28:45):They're just selling that product. So, equipment, seed sales aren't. Seed treatment's a service, but seed sales you're just taking a commodity and selling it.
Matt Adams (28:56):So, like equipment sales does not qualify, but equipment repair, because they're providing a service to the producer would-
Scott Parker (29:03):Correct.
Matt Adams (29:04):... be something along those lines. So, when we looked at our farm-related business clients, terms of the loans, I mean, they do pretty much the same as what we look at. Like say, delivering a farm commodity and we're looking at a truck and trailer loan. Is it the same terms at that point?
Scott Parker (29:22):Yeah. So, they're using those assets just like a farmer would essentially. So, it's something we're comfortable with. Maybe put a little bit more mileage on those semis and those trailers, but they're producing more income than a typical farmer, potentially. So yeah, pretty much the same terms.
(29:37):You get into maybe some more commercial real estate improvements that support that business service. We'll just have to look at those on a case-by-case basis. We're not maybe an expert in some of those things, it's not something we deal with every day. So, we have to do a little bit more due diligence and see what we can do.
Libby Wixtead (29:57):And some of those facilities may be very specialized and not what our typical farmers are doing every day.
Matt Adams (30:04):Right. And I think the ones I work with too, when we look at some of our loans and then the terms, I always look at more on almost like a monthly income, because that's how we're budgeting a lot of stuff. So, we may set up some repayment terms on a monthly basis or something like that, just to really fit the cash flow of the business, because a lot of your farm-related businesses, they may be working with producers that have an annual income, but a farm-related business is more of a year-round income. So, it's just helping tailor that loan product the best for them.
(30:42):Our last topic, and it's something I think that we keep growing as an association. We look at our rural home purchase and rural home new construction. Scott, can you just go into, where can we do a loan for a rural home at?
Scott Parker (31:02):Yeah. So, we're eligible to do a rural home financing for non-farmers as long as they're not living in a town or a city greater than 2,500 people, which is most places in Northwest Ohio. But there's obviously larger towns, Findlay, Lima, those kind of areas, that we can't finance housing for non-farmers. But if they have that $500 gross farm income, then we can provide their financing for their primary dwelling pretty much anywhere, whether it's in a bigger city or not. The only limitation I think we do have is potentially if it's in a town over 50,000 people, then that's not considered rural by the government.
Matt Adams (31:43):And that's a rural home, a current home purchase or even new construction. We can provide the loans and funds for that as well.
Scott Parker (31:50):Yep.
Libby Wixtead (31:51):And we don't want to forget about home equity lines of credit either, that we can offer as well. Well, I guess, we learned a lot about our loan products today. What do you think, Matt?
Matt Adams (32:05):I learn something new every day, but this has been great, Scott. I appreciate you being on here with us. One thing we want to just reiterate to everybody out there listening and our members too, and all you potential new members out there listening, wherever you're at, is there's so much that we can do for you if you're in agriculture. I mean, that's what we're here for, exactly like Scott said, right? The purpose of us here is to provide credit for rural America.
Libby Wixtead (32:33):Yep. We have a mission to serve you and we have lots of different options. So, talk to your account officer today or your loan officer on the options of all the loans that we talked about. And if you ever have a question on if we can finance anything, just give them a call and we can get you those answers right away.
(32:54):And we thank you for listening to another episode of AgCredit Said It, and please follow us on all social media platforms and subscribe to the podcast so others can find it and it gets directly in your podcast inbox. We'll see you guys next time.
Voiceover (33:13):Thank you for listening to AgCredit Said It. Be sure to subscribe so you never miss an episode. While you are there, leave us a review to help others find the show. Let's talk ag in between episodes. Follow us on Facebook, Twitter, and Instagram at AgCredit. For more tips and resources, visit agcredit.net.