Episode 2: Who is AgCredit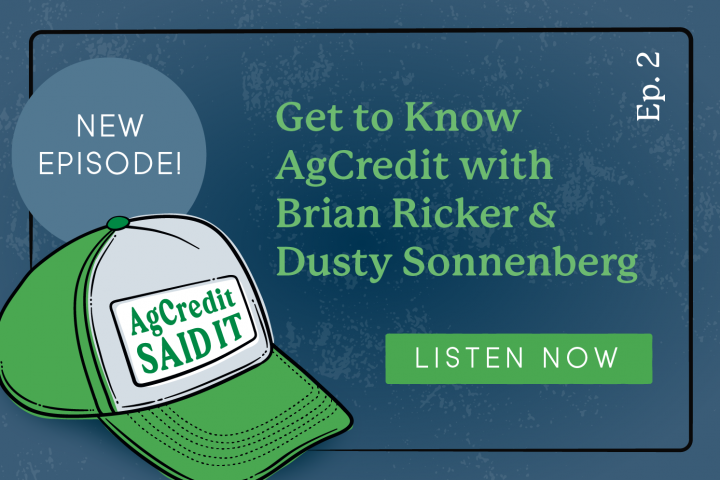 Questions we get asked often: What is a cooperative? How does it work? What are the benefits?
In Episode 2 of AgCredit Said It, we sit down with two special guests who explain the answers to these questions best: Brian Ricker, AgCredit President and CEO, and Dusty Sonnenberg, AgCredit Board Chairman.
When describing how AgCredit is structured, Brian Ricker related that what makes AgCredit unique are its member owners.
When a company is owned and operated by the people who use its products and services and benefit from what the company has to offer, it's known as a cooperative. Aside from the ownership structure, there are a few other distinct features that set cooperatives apart from other types of companies.
One of those unique benefits is the patronage check. According to Brian, this is where the cooperative model really shines through.
Patronage is determined by deducting the association's bills and operating costs for the next year and allotting a percentage of profit to be returned to its members. In recent years, this number has been quite significant for AgCredit. In 2020, 38% was distributed back to its members.
In response to Brian's thoughts on patronage, Dusty Sonnenberg agreed. "I think it's important for folks to realize that [patronage] is what makes us different from a commercial bank." 
Outside of AgCredit's success for its members, the agriculture industry as a whole has seen many challenging changes over the past two years.
Most notably for AgCredit was the impact of the pandemic. While some local financial institutions strayed from new government programs like the Small Business Association's Paycheck Protection Program (PPP), AgCredit remained true to its focus: its members.
During the heat of PPP, AgCredit employees adapted quickly to the challenges of the SBA PPP program to help their customers through the process.
"We ended up closing over 3,000 loans during about a two-month period," said Brain. "In two month's time, we did about a year's worth of work. It was a tremendous value for our membership. It's something that I'll never forget throughout my career at AgCredit, and something we can all be proud of."
To wrap up our conversation, we asked Brian and Dusty to share their best advice for someone just starting out in farming.
"Agriculture is still a relationship business," explained Dusty. "Yes, we're still producing food, fiber and fuel, but at the end of the day, it's still about relationships. Work with your neighbors. Ask questions, learn from others' mistakes, and hopefully you can be more profitable so you don't have to make those [same] mistakes along the way."
On sharing his advice, Brain relayed, "Educate yourself on what to expect." By building a team of experts around you, you'll gain understanding and always have others in the industry to lean on.
Even with extensive backgrounds in the agricultural industry, Dusty and Brian are both looking forward to learning from our podcast topics and guest interview perspectives. As Dusty ended with, "There's always something I can take away from a podcast." 
Here's a glance at this episode:
[9:59] AgCredit is structured as a cooperative. Unlike most companies, members are owners of AgCredit. Essentially, members are at the top of the organization chart with a percentage of profit distributed back to them in the form of patronage.

[13:52] As an association, AgCredit is overseen by a Board of Directors. The Board is made up of member owners who make sure that the association is stewarding the dollars of its members appropriately.

[15:05] Board member, Dusty Sonnenberg describes his drive for participating on the AgCredit Board of Directors as a way to give back and make sure that farmers have a voice at the table.

[18:09] Patronage checks are a significant benefit to AgCredit's members. Patronage is what makes AgCredit different from commercial banks. Once the association's bills are paid, and they've determined their operating costs for the next year, the remaining money is returned to its members.

[24:29] Like many other industries, the agriculture industry has seen tremendous changes in the past 24 months. In lending, and specifically at AgCredit, employees adapted quickly to the challenges of the SBA PPP program. In a traditionally already busy time of the year, AgCredit helped members and non-members close over 3,000 loans during a two-month period - a normal year's worth of work.

[33:36] Dusty and Brian give their best advice for those just starting out in farming.

[37:19] Dusty and Brian share what they're most looking forward to with the podcast.   
Connect with AgCredit:
Facebook https://www.facebook.com/agcredit
Twitter https://twitter.com/agcredit
Instagram https://www.instagram.com/agcreditaca/
Share questions and topic ideas with us:
Email podcast@agcredit.net
Bios
Host Brenna Finnegan
Brenna has been an account officer serving Lorain County for three years. She's worked in the agricultural industry for over 16 years with experience in livestock production, specialty crop production, seed production and processing/distribution. She grew up on a small family farm raising row crops and cattle. She currently has her own herd of beef cattle that she breeds and sells as show stock calves for 4-H and FFA members. At AgCredit, Brenna enjoys being able to work directly with the local farmers and especially helping young farmers achieve something that they didn't think they could.
Host Phil Young
Phil is an account officer for AgCredit serving Van Wert County. He's been in ag lending for over three years but his agricultural background goes back much farther. He grew up on his family's farm where his father raised a large herd of sheep. Currently, he helps with the family farm raising corn, soybeans and wheat. Phil likes working at AgCredit because he can help people achieve their dreams. Whether that is purchasing a new piece of farm ground, updating a piece of equipment, or helping a borrower understand their financials, helping his clients succeed is always his goal.
Guest Brian Ricker
Brian grew up on a small family farm in Putnam County growing corn, soybeans, tomatoes and pickles. They also raised hogs, which was one of his favorite things about the farm. After graduating from The Ohio State University, Brian worked with Bob Evans Farms and Ohio Farm Bureau before coming to AgCredit in 1997. He has been the CEO and President of AgCredit since 2014.
Guest Dusty Sonnenberg
Dusty grew up on a small farm in Henry County, Ohio and continues to farm in Henry County with his wife and sons. They raise corn, soybeans, wheat and hay and have a replacement dairy heifer operation and a direct market beef operation. Dusty has been a member of the AgCredit board since 2016 and currently serves as the Board Chairman.
Transcription
Speaker 1 (00:02): Welcome to AgCredit Said It, the podcast for farm newbies and seasoned professionals alike. In each episode, our hosts sit down with experts from across the agriculture industry to bring you insights, advice and must-have information on all things rural living, from farming to finances and everything in between. So, let's get to it.
Phil Young (00:27):Welcome back to AgCredit Said It. We're back for Episode Two here in Season One. We dumped Libby and Matt off, and it's just Brenna and Phil today. I don't know where we dumped them off at, but they're not here. It's just Brenna and Phil. I'm excited to have two special guests with us today.
Brenna Finnegan (00:43):I'm a little nervous about this one. Let's not make any mistakes, Phil. Let's not make any mistakes.
Phil Young (00:49):We'll try. Today we actually have Brian Ricker, who's the President and CEO of AgCredit, and Dusty Sonnenburg, who's AgCredit's Board Chairman. Guys, thank you for joining us today.
Brian Ricker (00:59):Great to be here. Thanks.
Phil Young (01:01):We'd just like to learn a little bit about each of you. Brian, if you want to take a little bit, just share a little bit. How you got here and how you became CEO, and your journey so far.
Brian Ricker (01:11):Sure, yes. I guess similar to many of our team members here at AgCredit, I grew up on a family farm, a small farm. It was in Putnam County. We grew corn and soybeans like we see on so many farms here in Northwest Ohio. We had some specialty crops too. Growing up, we had tomatoes and pickles and a pickle-grating station. Kind of unusual, you don't see too many of those today. We also had some purebred Yorkshires and Hampshires, and so we raised those. That was probably one of my favorite things, was the hogs and raising them.
Brian Ricker (01:48):Came from a large family, there's eight of us and I'm the youngest, so Mom and Dad had plenty of help. They put us to work and they taught us how to work, that's for sure. I know my older siblings, they were good mentors for me. They taught me how to work, so that was-
Brenna Finnegan (02:08):They made you do the work, didn't they?
Brian Ricker (02:11):They did, they did. It was fun and enjoyable. Of course, it just seemed like everything growing up revolved around agriculture, whether it was Mom and Dad going to some meeting that dealt with sugar beets or whatever the case might be. Everything revolved around farming and agriculture at the kitchen table. As a result of that, that's what I knew, that's what I loved, so went off to school at Ohio State, and majored in agriculture. That was a great experience. After graduating, my very first job was with Bob Evans Farms. We made sausage, it was in one of their processing plants. It was quite an experience. Learned a lot, and then from there went on to Ohio Farm Bureau, was an organization director. Quite a contrast between those two jobs, but I learned a lot there as well and that's what it's all about.
Brenna Finnegan (03:11):Did you serve at Bob Evans?
Brian Ricker (03:13):I did not. But I still eat the sausage today. From there, after I don't know, it was probably five or six years, and then I found home. I found AgCredit and interviewed for an account officer position is what it was, in the Van Wert office. I remember the interview. There's always those questions, and the question of, "Brian, what are the things you value? What are your priorities in life, and those things that make you tick?" And so forth. I remember saying that family was the first thing I said. That's very important, I value family. Faith, I value that, and then the third one was career, so I put that third. Work career.
Brian Ricker (04:04):I still remember that because it made me think a little bit. After I started working for AgCredit I quickly realized that the culture of what I desired and what my values and beliefs were, matched up pretty good with AgCredit's. I knew I wanted a career, I wanted to stay here for a while. Here I am today. That was rewarding and it was a great experience with all that.
Brian Ricker (04:32):I started working in Van Wert, and of course we covered Van Wert and Paulding Counties. It was great to work with the farmers over there. Learned a lot, met a lot of great people. Still like to see those people today.
Phil Young (04:45):I will say, I work at the Van Wert office and I have a number of people that I work with that will say, "Do you know how long I've been here?" I'll say, "No, how long you been here?" Like, "Brian Ricker was my account officer." I said, "Well, it sounds like you been here a long time."
Brian Ricker (04:59):Wow.
Phil Young (05:00):They're happy how successful you've been, and they're always excited to name drop you.
Brian Ricker (05:06):That's great, thanks.
Brenna Finnegan (05:07):He has your picture in his office. No, I'm kidding. I'm kidding.
Phil Young (05:12):Like FSA has a picture of the President. I have the picture of you.
Brian Ricker (05:16):Oh, boy. Come on, it's getting deep now. You know how this is, Phil, that you close that loan and it's a good feeling.
Phil Young (05:26):Yeah.
Brian Ricker (05:27):Whether it's that first farm for them or their tenth farm, there's just that satisfaction. I always got that adrenaline rush a little bit, that you're helping somebody. It's rewarding and it's great. At any rate, I do miss that part of being that close to the customer. Then it was around 2009, and there was an opportunity here at admin in the credit area that came up. I was interested in it and thought it might be a way to broaden my horizons a little bit and seek a little bit different opportunity with AgCredit. I interviewed for that, it worked out. Of course, that allowed me to get a little bit closer to some of the leadership here at AgCredit. I still think that Neil Jordan, our former CEO, I consider him a mentor. Dave Starner, he was here in the credit department at the time. Just great people to work with. So many others too, they've retired since then but I can't name them all. Just great people and it was a pleasure to be with them and learn from them.
Brian Ricker (06:38):Of course, some retirements took place along the way. It was 2014 when this position came open. I interviewed for it and whatnot, and was fortunate to be selected. It's been great. And ultimately, as I was sharing earlier, I do miss working directly with those farmers. It was so rewarding, but it's different today a little bit. It's still very rewarding because now I get to see all the employees, and I'm not the young one anymore. You get to see the new employees come, how they grow within the association and just doing what you guys are doing here today. It's exciting, just great to see that happen and see everybody else develop around us and see that next generation of AgCredit employees. That's so neat.
Brenna Finnegan (07:34):That's exciting to know we can always move up. We started at the same spot. Now, to switch over to Dusty a little bit, I actually met Dusty... I don't know.
Dusty Sonnenberg (07:45):Several years ago.
Brenna Finnegan (07:45):Several, several years ago. He was actually an agronomist and I was doing my test plot when I worked at ConAgra Foods. We were taking popcorn off a grower up in Henry County, and Dusty was there with me the whole time. All I could think of is, "Oh shoot, I better pick the right disease or do my counts right," and all that kind of stuff. Dusty, why don't you go ahead and tell us a little bit about yourself-
Dusty Sonnenberg (08:09):Sure.
Brenna Finnegan (08:09):And how you became Chairman of the Board for AgCredit.
Dusty Sonnenberg (08:12):Absolutely. Like Brian, grew up on a small farm in Henry County, and I do continue to farm in Henry County with my wife Cheryl and sons Cody and Bailey. We raise corn, soybeans, wheat, and hay. We also have a replacement dairy heifer operation and a direct market beef operation. We keep pretty busy with that. As Brenna alluded to, I do some consulting work. Used to work in extension and teach high-school ag, and really became affiliated with AgCredit. I always knew about the farm credit system, the old land bank and PCA, but AgCredit when I was teaching high school... They were very active, obviously, in the Junior Fair Program, and would come out and do presentations to the ag classes.
Dusty Sonnenberg (08:56):When I started to really get involved in the farming side, my first tractor loan was through AgCredit. Really, AgCredit has been there every step of the way as we have grown from teaching high-school ag and being a part-time farmer to going full-time in the business. From a tractor and equipment loan to loans to build some of the livestock barns... Now, really, as we've come full-circle in the transition of the operation and purchasing the farm ground, AgCredit has been there every step of the way. I've grown, like most members, and I attribute a large part of that success to the folks at AgCredit and the relationships there in helping me walk through that process.
Dusty Sonnenberg (09:39):I was first elected to the Board of Directors in 2016 and served on a couple of committees, and then had... I call it humbling honor to be elected as Chairman of the Board of Directors, so I'd be in my second year now as being Chairman of the Board. A great group of fellow farmers from all across the association.
Phil Young (09:59):I guess either of you guys can tackle this next question. AgCredit is a cooperative, and some people out there may not know what that means. Can you guys describe how AgCredit's structured, what is a cooperative?
Brian Ricker (10:10):Yeah, sure Phil, I'll take a stab at that one. I think in the business world we often hear about publicly-traded companies. They have profit and they give a dividend out, distribute a dividend, but that's only for those investors that own that particular company. The Board of Directors, you're not really familiar with the Board. At any rate, the cooperative is unique and it's much different than most of the companies that you hear about out there. The entire farm credit system is essentially a cooperative structure. Of course, AgCredit is part of that farm credit system. One of the things that really makes us unique is that our member owners, they are the ones who own us. They are at the top of our organization chart, and so the profits that we make at the end of the year, those that we do not need to retain, we distribute those to our members, back to them in the form of patronage. That is definitely different than most companies and we're very proud of that.
Brian Ricker (11:24):Then, our structure, the governance structure... Dusty just alluded, he's on the board. Our governance, our board of directors, is made up of the members that we serve and they are elected by our members as well. Those member owners who comprise of our membership. That's very different and unique. We have a nominating committee, and they're elected every year as well. That's kind of where it starts. That's the origin of it. Just a few weeks ago, we held our nominating committee meeting. They were elected at our annual meeting in April earlier this year. We had a couple meetings along the way, and then we sat down with them. There was 18 of them, every county that's in the AgCredit territory was represented, and they sit down and hash out who's going to be running for the Board of Directors. Find those candidates, they find replacements for themselves. It's an important job. That's the genesis, so to speak, of how we get started here at AgCredit with the governance.
Brian Ricker (12:32):We have eight elected directors on our Board of Directors. All eight are member owners of AgCredit, they're members. We have two outside directors as well, and those outside directors provide some additional expertise. Financial expertise, that type of thing, executive management experience that's needed. We always say, "Who but farmers know what farmers need?" so by having farmers on our board-
Brenna Finnegan (13:01):That's a great way of thinking of it.
Phil Young (13:03):Yes. Kind of like you described, you have borrowers or members of AgCredit at the top, then you have the Board of Directors. I would describe the Webster definition of Board of Directors as an executive committee that supervises the activities of an organization. Kind of the technical term. Dusty, can you share on a basic level what that looks like? On the board, and Chairman of the Board, how that works?
Dusty Sonnenberg (13:26):Sure. Phil, I think that's a great start. Really, Brian alluded to it when he talked about governance, and that's really what we as the board members, as farmers, just like each one of you listening are. We look at it from, "How do we manage and govern our own operations, and apply some of those principles to the board?" So governance, looking at policy for the association, and fiscal responsibilities, or fiduciary duties, as they would call it.
Dusty Sonnenberg (13:52):The board functions with a committee structure, so we have an audit committee, a credit committee, a governance committee, and an operations committee. Everything really flows back through those committees as we process the business of the association. I mentioned policy as one of the things. The board sets policy, and it's those policies then that the association follows. The board meets 10 times a year, and at every one of those meetings as the committees break out we will review a handful of those policies and make sure they accurately reflect how the association should be operating. We review the financials, review different regulations coming down. Obviously, the board has to interact with our regulators, the FCA, the Farm Credit Administration, and also different auditors and firms that have to come in. It's really our responsibility to make sure that the association is stewarding the dollars of our members, as the board oversees the association, working with our lending bank, AgFirst, and then as those funds come down from the funding corps. A whole set of tiers that that flows through, and it's our job to make sure that's managed appropriately.
Phil Young (15:05):Nice. Good, yeah. I guess my next question is, you listed a laundry list of things that you're involved in outside of AgCredit, and then you also said yes to being a board member. What compels you to dedicate the little time it sounds like you maybe have to be on AgCredit's board?
Dusty Sonnenberg (15:22):Sure. That's a good question. Probably to be honest, I've got a passion for the industry. I love agriculture. Like Brian, growing up on the farm, it's just something that gets in your blood. It's something you want to be a part of. I think initially just that drive for... I'm always learning something new. Even here in Northwest Ohio, the tremendous diversity we have within agriculture, and that idea of giving back.
Dusty Sonnenberg (15:47):As I mentioned earlier, it's largely because of AgCredit that my operation has been able to grow to the size and scale that it has and provide opportunities for myself and my family. So finding ways to give back in that regard, but I think it's also evolved. As I've been on the board, and to some of the national meetings and things, I've gotten a little bit more of a big picture of how the farm credit system works. A lot of the other intricacies that are out there. Politics in Washington DC, policy that comes down. I guess I'm often reminded... Terry McClure, he's one of our members and past President of the Ohio Farm Bureau Federation, and currently a nationwide board member, made the statement one time, "The game is played by those who show up." That idea of how important it is to be at the table and be present. Be engaged and be involved.
Dusty Sonnenberg (16:42):As I look at all the aspects and intricacies of the ag industry, and in particular when it comes to the financial side, how important it is that farmers have a voice at that table. Not only within our association, to make sure that it stays true to its mission to serve the rural communities, but the bigger picture. That our legislators are held accountable, that our regulators don't lose sight of what the bigger picture is, and making sure that everything stays in check.
Brenna Finnegan (17:10):I think a lot of it is the... You kind of represent everybody in the territory. We all know that the ag world is a very small world, and somehow we have to have somebody speak for us and be there and give people in Washington what do we need as people of this industry, and the community trying to feed the world. Being a part of that, I would assume it's really exciting to be able to take part in all that type of stuff.
Dusty Sonnenberg (17:48):It is. It really is. It's that bigger picture when you look at it, that our goal is not only to support our families and local communities, but basically to feed the world. We've got a growing population, we're doing it with less than two percent of the population in the US, and if you look at those in animal agriculture, it's less than one percent. It's a pretty daunting task, and it's amazing what farmers can do.
Brenna Finnegan (18:09):Earlier we mentioned that we are a cooperative and we are member-owned. There is one benefit that Brian, you had mentioned earlier, that I know as a member I look forward to receiving it, is the patronage check. I do have one little story about this. Right after I started here... I have a really small operating line. Sometimes I think, "What's the point?", but you know, got to start somewhere. I got my patronage check and it was like... I was only here four or five months at the time and I opened it. I was like, "Oh." I hadn't used it very much, so it was like $17 and I was like, "Yes, I'm going to buy a pizza for the office."
Brenna Finnegan (18:51):Some people, those patronage checks, those earnings that those members essentially earned by being members here, go ahead and tell us a little bit about that-
Brian Ricker (19:00):Sure.
Brenna Finnegan (19:00):And how it all comes to play.
Brian Ricker (19:01):Yeah. It is significant. I know there's been a number of times, especially if you're a new member and it's your first check, you are shocked at what it is. You think maybe the decimal point's in the wrong spot, but it's not.
Brenna Finnegan (19:15):I had gotten others, but that one I was like, I wasn't used it, so it was kind of funny.
Brian Ricker (19:20):Even just last year in 2020 we had a real nice year, and I think it was 38 cents for every dollar of interest that you paid or accrued on your loan was returned to you. The neat thing is, this cooperative model that we're under... The bank, AgFirst, that we get our funding from, AgCredit, we are an owner of that bank. Similar to our members being owners of AgCredit, we then because of our ownership of the bank, along with 18 other associations, we receive their profits as well. We received an exceptional profit patronage at the end of the year, profit sharing at the end of the year last year from AgFirst. That really bolstered our return back to our customers, our members.
Brian Ricker (20:12):All that adds up, and that cooperative model and that structure just shines through. We've been paying patronage now for 34 years. A long, long time and got a lot of history, and the board is very involved in making those decisions and helping with, "What are we going to pass out this year and distribute?"
Brenna Finnegan (20:33):It's a pretty straightforward method. There's no scientific formula that we... I mean, there is somewhat, in the background, but when we really sit down and think about it, it's this is what we're giving back and it's no if, ands or buts, I guess you could say about it. It's something that's very clear when we talk to members as account officers, like last year the 38 percent. When you walk in with a check, not very often does a financial institution turn around and give you money because you've earned it kind of thing. It's a little different. It's a bit exciting, and that number, how do you guys determine how that-
Brian Ricker (21:17):Yeah. There are a few things that go into play with that. Every financial institution, any business, you need a certain capital level, net worth, equity level, and so we review that. We look at our growth, because if you grow your assets, you do need to capitalize those assets. That's something that the board helps to review and the management team looks at that. Based on our growth and all that, we analyze it and figure that out.
Brian Ricker (21:47):There's a model we go through. Anyhow, it's just been great and the history is there for 34 years. We project out where we think it's going to be on a three-year plan, and we're in a very strong capital position across the association now, so are confident for the future as well.
Brenna Finnegan (22:08):Phil, you and I probably started right around the same time-
Phil Young (22:12):We did, yeah.
Brenna Finnegan (22:12):Or maybe you started a couple months earlier.
Phil Young (22:14):2018, yeah.
Brenna Finnegan (22:16):Yeah. Since we started, the percentage that has been distributed back to our members has been quite significant. I mean, two years ago it was 45 percent. When you sit there and tell somebody you're getting almost half of your interest back, they're like, "Are you crazy?" Well, kind of, sort of. Maybe a little bit.
Brenna Finnegan (22:38):It's neat to sit there and have that experience of, "Here's this for you, thank you for considering us as your lending association." I'm sure you, Phil, have come across that satisfying feeling of being able to do that for people.
Phil Young (22:55):Yeah. You get flabbergasted people and they're like, "So this is my money? I can keep this, right?" Yeah, that's yours. Yeah.
Brenna Finnegan (22:59):I really love explaining it to a new member. To a new member it's fun to explain, because we're like, "Once a year we're going to give you a check back," and they're like, like I said, "Are you crazy?" It's neat.
Brian Ricker (23:12):Ownership has its privileges.
Phil Young (23:16):That's right.
Brenna Finnegan (23:16):Yes, it does. Yep.
Dusty Sonnenberg (23:16):It does. I think it's important for folks to realize, again, as Brian alluded to, that's what makes us different from a commercial bank. That's what makes us different from a lot of other lending structures that are out there. But that patronage is also due in large part to the hard work and dedication of our folks in the association, that go through the way the system is set up. Basically, it boils down to interest dollars are paid, and as the association operates, once all our bills are paid and we determine what money we need as an association to operate for the next year and we have the reserves held, what's left in the pot is what goes back to the members. You pay so much interest based on those estimations, if you will, of what it's going to take. Then, as our funding corps, as our bank is able to adjust in their borrowing, maybe do some refinancing or pay down debt and get some better rates, that's passed straight down to the member.
Dusty Sonnenberg (24:10):In a sense, even though you are taking out a loan at certain times, your association is always in the market looking for the best rates and doing things... As a group, make sure that that best deal is getting passed on. Really looking out for... You're good when you're busy doing what you have to do, and that's farm.
Phil Young (24:29):I'm going to kind of pivot topics here. You're our first guests and you guys are leaders within AgCredit, you're the head of an organization. As far as the industry goes, lending, AgCredit, agriculture, what do you guys see has been the big challenges over the last 24 months? In agriculture, lending, kind of the whole gambit.
Brenna Finnegan (24:53):We all know that one word's going to come up. I'll let somebody else say it though.
Brian Ricker (24:59):I'll lean on the lending world, and you go back 24 months, you know where that takes you. Obviously for us here at AgCredit, simply trying to adapt to the change that we've seen with Covid and all the impact of that. One of those changes, I just recall this from... It would have been right after Covid hit, and then all the way into earlier this year, there's just been so many new programs the government's thrown around, namely the SBA PPP Program, and just the importance of us as an association. In order to serve our customers, serve our members, we had to figure out how do you gain access to these programs? How do you execute on them and make sure that you can fill the needs of our membership and close these loans?
Brian Ricker (25:52):I give a tremendous amount of credit to our team for rising to the occasion when we were scratching our heads, when we were trying to figure out, "How do we do this?" On the phone, and on hold and not getting emails responded back from the SBA on how to do this. All the credit in the world to our team for persevering and not giving up.
Brian Ricker (26:15):Then during a very busy time, traditionally an extremely busy time, for our team to have the wherewithal and the ability to keep after it every day, for months on end. We ended up closing over 3,000 loans during about a two-month period. It was 60-something million dollars. In two months' time, we did about a year's worth of work, is what it boiled down to. It was just tremendous value for our membership, tremendous need. Anyhow, that was just something that I'll never forget throughout my career at AgCredit, and something we can all be proud of.
Brian Ricker (26:58):When I saw that, when you mentioned that question, the lending world and those challenges just popped into my head right away. While I'm with that, obviously we've had changes here at AgCredit. Where we work, remote, and just…
Brenna Finnegan (27:14):I was just going to say, you've alluded to dealing with external customers before at previous positions that you've had, and then you mentioned that your role has shifted to your internal customers, which happen to be your employees. How much adjustment, just in those 24 months, have occurred with how many of us... It's been interesting to say the least, even on our end. I couldn't imagine what it was like sitting behind your desk and trying to make the decisions and trying to keep everything moving forward.
Phil Young (27:45):I'm not used to seeing people's faces on screens, I imagine-
Dusty Sonnenberg (27:47):That's right.
Phil Young (27:48):Versus in real life.
Brian Ricker (27:49):Yeah. We had to adapt to that. Even just from a culture standpoint, you are concerned with how will this impact culture going forward, because we do plan on having a remote approach going forward with many of our positions. We don't see us changing that back to the old days. We also know along with that there needs to be a line of additional flexibility and-
Brenna Finnegan (28:18):It's like the evolution of it all. It's kind of as things were thrown at all of us through the last... It's weird that you say "the old times," referring to the old times as only 24 months ago.
Brian Ricker (28:33):Work-life balance. That's what I was trying to throw out there. That's just so important anymore, and that's something that we hear a lot about. Just to have that balance in our daily work schedule. Anyhow, I look at it as a big experiment, almost, that we're ongoing. We continue to look and review and adjust and do. It's working, but we may need to tweak some things from time to time and just be open to some of those tweaks. Time will tell.
Dusty Sonnenberg (29:02):As Brian alluded to, it's hats off to the total AgCredit team for stepping in, to especially things like the PPP loans and whatnot. There were several other local financial institutions that just decided not to go there. It was going to be too much work, they had enough other challenges going on with everything with the pandemic. That was one area where they just weren't able to step up. They didn't want to deal with the hassle, and yet amidst everything going on with Covid and the pandemic and looking at everything going on, all the changes in the ag industry, I'm pretty proud that our team stepped forward and was willing to take on that challenge, because they knew it was for the benefit of our members.
Dusty Sonnenberg (29:44):They looked at the big picture, realized this is going to be a lot of work, but the amount of good that it could do, the amount of dollars it can bring back to our members and the association to help their balance sheets. In these challenging times for everybody, I know that everybody went above and beyond and it definitely showed. I think our members are very appreciative of that. Hats off to everybody that made that happen.
Dusty Sonnenberg (30:07):As we look at the industry and the changes... Ag's always changing. We look at the last 18 months to two years, what's going on with local meat processing and the challenges that some of our small farmers that sell direct had with that. If we look at input prices and how the potential risk of what's the availability of some of those inputs going to be. Seed chemicals, fertilizer, equipment, even parts moving forward into the next year. Commodity prices are really good right now. We've got government programs like crazy between the conservation programs, the one that Brian mentioned, with PPP or the CFAP programs, both one and two. There's a lot of things, moving parts if you will, going on. Yet I think it's again a credit to our folks out in the field that are working with our farmers, our borrowers, that are keeping all these things in mind, so that when they sit down across the desk from you and talk about your operation and talk about what your financial needs might be, they're also aware of all these moving parts and programs to make sure that they're delivering the best product possible to make you profitable.
Brenna Finnegan (31:12):You mention that, and it's kind of going back to the PPP loans, not to mention that that was going on, but we also... Rates were dropping major during that time frame, and the ability for us... We all talk about our members are number one, and we do think of it. It really is the culture here at AgCredit that they are number one and we are here to serve them. The note modifications that took place during that exact same timeframe was absolutely insane. It was just amazing to see how much shift in saving our members money, not only putting PPP funds or CFAP funds into their pockets, but we were also trying to save them from paying us more money than they needed to.
Phil Young (31:58):I guess when you say note mods, for those that maybe aren't members, can you describe what a note mod or note modification is?
Brenna Finnegan (32:05):Pretty much the alteration of your loan. Rate reductions, that's what I was getting at right there, is that we reduced rates across the board for so many people. There's other forms of note modifications that can take place too, whether it's changing the format of payments, all those types of things.
Phil Young (32:29):We had a lot of smiling faces in Van Wert.
Brenna Finnegan (32:32):Yeah, same over in the Eastern side.
Phil Young (32:35):Our members were about 700 I think. We did 700 note mods in 2020. It was association wide, it was huge too.
Brenna Finnegan (32:44):It is still something that gets looked at. It does get noticed, and the fact that you bring up all those programs, it's like, "Well, we had an opportunity internally to do the same thing for them." Put those funds right back in their pockets.
Phil Young (33:05):You mentioned a quote by Terry McClure. I've heard that similar quote where "Decisions are made by those who show up." I feel like AgCredit showed up in the form of note modifications and then PPP.
Brenna Finnegan (33:17):The thank-yous. The thank-yous that were handed out for members was... We even did those PPP loans for non-members. We had that opportunity to do that for them. If we were the ones doing it, that's full board, let's go.
Brenna Finnegan (33:36):With both of you guys both having extensive ag backgrounds and everything, what's your best advice for someone new starting out? You think of our YBS members, what's your advice?
Dusty Sonnenberg (33:46):Sure. I'll start with that one and let Brian wrap it up. I think, and maybe this sounds a little bit odd, but similar to what we see in AgCredit, we're a relationship business. Agriculture is still a relationship business. Yes, we think about that we are producing food, fiber, fuel, it's crops, it's livestock, but at the end of the day it's still about relationships. Especially as agriculture is changing, it's working with your neighbors. So to somebody that's looking at getting into farming, especially if they aren't coming from a family farm, or maybe a spin-off in that regard, is developing those relationships. Asking questions, learning from others' mistakes, and hopefully you can be more profitable so you don't have to make all those mistakes along the way.
Dusty Sonnenberg (34:31):There's not a lot of margin for error. There's enough challenges between the markets and the weather that you don't have a lot of room for your own mistakes. Learning that as you go. I think having realistic expectations... If you're getting started in the industry, you're not going to become a 5000 acre grower that has corn yield contest winner trophies every year and things. Learning as you go, what realistically can you do on your operation, with your equipment? What is your ground capable of, or your livestock facilities. What are some realistic things, and then being flexible within that, and knowing there's constantly going to be change going on.
Dusty Sonnenberg (35:11):This part probably sounds like an oxymoron, but focusing both on the big picture and the details. Paying attention to the details, whether it's planting your crop, planting even a cover crop, or raising the livestock and making sure that you're paying attention to what the health of those animals are as the weather changes and stress situations, but at the same time not getting so absorbed by one small aspect that's not quite right that you lose sight of the bigger picture of profitability of your operation. That brings up my last point, that's that you are in business. It is a business. I go back to, again, quotes I've heard from different people. Between Ed Johnson and Bart Johnson, Ed used to say, "If you can't market it, don't grow it," and Bart always says, "If it doesn't pay, it doesn't stay." Constantly taking a regular look at your operation. Are you doing things just because that's how we've always done it, or are you doing things because they do contribute to the bottom line of this farming operation?
Brian Ricker (36:12):Yeah. That's good, Dusty. A real practical approach. Just a couple things that I was thinking of. Number one, visit an AgCredit lender.
Brenna Finnegan (36:24):Good plug, good plug. Yes.
Brian Ricker (36:25):That's a great start. But also I think just visiting, perhaps, with others in the industry that you're interested in pursuing, to gain a little more understanding or the pros and the cons. Just educating yourself on what to expect, research that. Obviously, a business plan. It's the lender coming out in me when I say business plan and ballot sheet and projections, and all that. Just thinking through that, that's important. I think maybe start building that team around you of experts, financial experts. It could be your AgCredit lender, it could be your accountant, it could be an attorney, but start to build that team for your future and you're probably going to need them at some point. You're going to need the AgCredit lender probably the earliest, and then from there some of the other resources could come in handy. Those are just a few thoughts.
Phil Young (37:19):Nice. Good, yeah. Tell you what, Brenna, we've had two really strong interviewees, our first interview episode here. We're doing a podcast, this is Episode Two. I wanted to ask you guys, I guess this is a new venture for us, for AgCredit. What are you guys looking forward to most about having a podcast?
Dusty Sonnenberg (37:39):I think just the new perspectives that come in. Any podcast I listen to, whether it's the AgCredit Said It podcast, as it takes shape... There's so many podcasts just in the agriculture realm. Apple or any other podcast-type hosts out there, you just type in agriculture podcast and the list just comes up time and again. There's always something I take away from those. It might be a subject that I'm pretty well-versed on, but there's still maybe a snippet that the guests bring that I hadn't thought of. That's what I'm looking forward to is just some of those new perspectives.
Brian Ricker (38:15):I just add too, learning and education for me. I think learning a little bit more about our team or our guest speakers, the folks that are going to be on some of these podcasts. Getting us out of our comfort zones. I think that is important. I think getting out of that comfort zone, it's going to open up new horizons for everybody if we can do that. And ultimately just share what we know about agriculture. We have a lot of experts here at AgCredit.
Phil Young (38:44):I know one of the things you've said in different meetings we've had, Brian, is become one percent better at whatever you do. I feel like listening to podcasts, reading journal articles, listening to industry experts in what you do, is going to help you do that.
Brenna Finnegan (39:00):I think one thing about it is that we all take part in this industry ourselves, in some way, shape, or form. I'm not going to say I'm an expert at a lot of things. I'm not jumping in the tractor and operating the equipment myself or anything like that, but I can sit there and figure out the numbers for people and do that kind of thing. Then discussing it in this type of format, as far as podcasts go, I think is something that's... It's a new venture, it's something fun and I hope that we can keep engaging more people. I think it would be great having outsiders come in and give their perspectives just as much as us internally. That type of thing.
Phil Young (39:42):I know Brenna and Libby and Matt and I are extremely excited to bring you more episodes. Episodes about different topics and bringing in experts and interviewing them. Looking forward to sharing more episodes. Please share with an account officer, with us on Facebook if you have a topic that you want to hear from us. Let us know. We definitely want to know those topics that you want to hear us talk about, or hear a guest expert talk about. Thank you again for joining us on AgCredit Said It.
Speaker 1 (40:20):Thank you for listening to AgCredit Said It. Want to talk ag in between episodes? Follow us on Facebook, Twitter and Instagram at AgCredit. For more tips and resources, visit AgCredit.net and be sure to subscribe to the show on your favorite podcast player. Catch you next time.