Bonus Episode: Season 1 Recap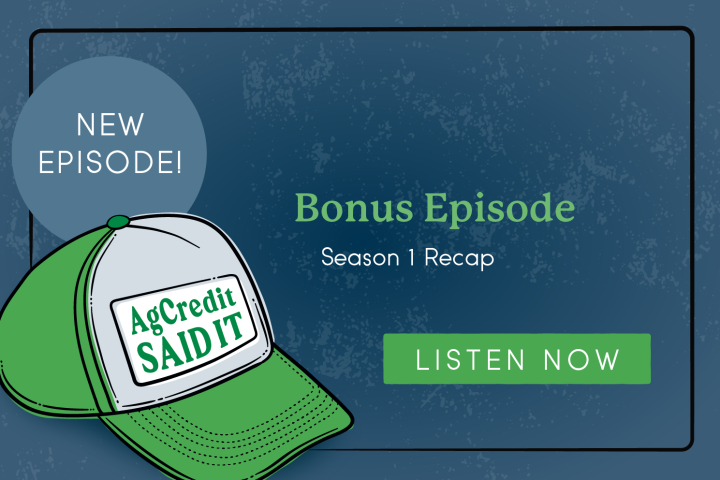 The AgCredit Said It podcast hosts get together to recap their top moments from  Season 1. From their favorite episodes and guests, to the bloopers and behind-the-scenes you didn't know about, Matt, Phil, Libby, and Brenna dish out their most memorable hosting moments and what it's really like to host a podcast.
Season 2 of AgCredit Said It is in the works! Do you have topic ideas or guest suggestions? Email us at podcast@agcredit.net.
Here's a glance at this episode:
[04:32] The hosts each share what their favorite episode was from this season.

[13:38] Each host reveals what they think is the hardest part of hosting a podcast interview is.

[17:02] The hosts recall stand out bloopers and funny moments from their first season as newbie podcasters.
Connect with AgCredit :
Facebook https://www.facebook.com/agcredit
Twitter https://twitter.com/agcredit
Instagram https://www.instagram.com/agcreditaca/
Share questions and topic ideas with us:
Email podcast@agcredit.net
Bios
Matt Adams
Matt serves Paulding County as an account officer at AgCredit. He has worked in ag lending for over three years and previously worked in farm equipment sales for 11 years. He and his wife farm in northwest Ohio with their two daughters and son. His favorite part about AgCredit is the people. From the member-borrowers to the internal team at AgCredit, every day keeps getting better. Matt hopes to bring insights to ag lending and some laughs to the AgCredit Said It podcast.
Brenna Finnegan
Brenna has been an account officer serving Lorain County for three years. She's worked in the agricultural industry for over 16 years with experience in livestock production, specialty crop production, seed production and processing/distribution. She grew up on a small family farm raising row crops and cattle. She currently has her own herd of beef cattle that she breeds and sells as show stock calves for 4-H and FFA members. At AgCredit, Brenna enjoys being able to work directly with the local farmers and especially helping young farmers achieve something that they didn't think they could.
Phil Young
Phil is an account officer for AgCredit serving Van Wert County. He's been in ag lending for over three years but his agricultural background goes back much farther. He grew up on his family's farm where his father raised a large herd of sheep. Currently, he helps with the family farm raising corn, soybeans and wheat. Phil likes working at AgCredit because he can help people achieve their dreams. Whether that is purchasing a new piece of farm ground, updating a piece of equipment, or helping a borrower understand their financials, helping his clients succeed is always his goal.
Libby Wixtead
Libby has been an account officer for seven years serving AgCredit members in Marion County. She grew up on a 200-acre grain farm and was very active in 4-H and FFA. Today, Libby and her husband operate a 2,400-head swine finishing barn. Her favorite thing about working at AgCredit is working with local farmers from the same area where she grew up and seeing their operations thrive. She loves working in agriculture and helping her customers be successful year after year.
Transcription
Voiceover (00:02):Welcome to AgCredit Said It, the podcast for farm newbies and seasoned professionals alike. In each episode, our hosts sit down with experts from across the agriculture industry to bring you insights, advice, and must have information on all things rural living, from farming, to finances, and everything in between. So, let's get to it.
Matt (00:27):Hey everyone. Welcome back to AgCredit Said It. I'm Matt, and here we kind of got the band back together for this. It's been a long time since we've had all the hosts in one room filming here at the beautiful AgCredit Studios in Van Wert, Ohio.
Libby (00:43):Woo-hoo.
Matt (00:44):So, let's go around the room. Everybody introduce yourselves.
Phil (00:46):It's yeah, me Phil here. I brought my guitar so we can get the band back together here.
Matt (00:51):Here we go.
Phil (00:51):But yeah. Good to see everybody. Yeah, it has been like six months. I think we determined?
Matt (00:57):You just got back from vacation. You got the tan going on there.
Phil (01:01):Yes, I do. Yeah.
Matt (01:01):Hanging out on the beach all week, were you?
Phil (01:02):Yeah. My wife, Katie, and the kids, and everybody hung out on the beach. It was fantastic. We were in Topsail, North Carolina. So it's been a long time since I've been back to the beach. None of my kids had ever been to the ocean. And so, it was just like one of those cool experiences to like walk them down to the ocean.
Matt (01:18):So, you got the cool Dad award for like the year now.
Phil (01:20):I feel like I did. Yeah, I feel like.
Matt (01:25):Well, moving right along.
Brenna (01:26):It's Brenna back here, and just waiting for the next blooper to come up for me, apparently. You guys keep bringing it up.
Matt (01:33):Disclosure right now, we might have a Brenna blooper reel later in the episode.
Brenna (01:37):No, no, we will not.
Phil (01:39):There's a deep well to pick from too.
Brenna (01:43):You guys are terrible. No, I did not return from vacation. I've been doing hay all week.
Matt (01:49):And you were just on a trip for the association?
Brenna (01:53):Yeah. Went down to Savannah, Georgia. Attended our connect conference, which is all about marketing, and sales, and all those types of topics.
Matt (02:03):Well, last but not least Libby.
Libby (02:07):Hello everybody. I am so excited to be back with everyone. It seems like we haven't seen Matt and Phil in like a lifetime, or at least I haven't. I was also just got back from the Connect Conference with Brenna down in Savannah, Georgia. The hot, hot, hot, and humid Savannah, Georgia.
Brenna (02:24):Oh my goodness, it was so hot.
Libby (02:24):Had quite a time on my flights getting back home, but I'm here. My kids are happy. My husband is extremely happy to have me back home.
Matt (02:33):So, was the house erect by the time you got home, did he manage it pretty well without you?
Brenna (02:37):He managed it pretty darn well. I think my mother-in-law made a lot of meals, so they didn't eat at the house. They weren't at the house a lot. So, the house was put back together just fine. He did good.
Phil (02:49):Good. Matt, are you holding the Fort down up in Paulding county?
Matt (02:56):It's a job if somebody's got to do it. No, things have been going great up there, we've seen tremendous growth in our area up there, and still working on finishing out the last fields to plant. We've had some replant in our area. So it's been one of those springs that you call, it's a marathon, not a sprint.
Phil (03:13):Yep. Just finished the Paulding County Fair, correct?
Matt (03:16):Finished the Paulding County Fair, record attendance they had on the first day, and for the 4-H livestock sale, I haven't heard the final numbers yet, but it sounds like they set a record there too.
Phil (03:28):Nice.
Libby (03:28):Great.
Phil (03:28):So, for a very hot week, it was great to see a fair back in full swing, where the last couple years we've been kind of regulating on what they can do on everything.
Brenna (03:41):I was just going to ask about the heat for the week. How was it?
Phil (03:45):The first couple of days were pretty bad. They actually had the fire department come out to water down the barns, because the heat index was so high and heating up the metal roof. So just to bring that temperature down, it's almost like for our livestock producers that have cool cells and a lot of their barns, it's like a giant cool cell, basically. The fire hose would bring the barn temperatures down about 20 degrees just by cooling those roofs down. So, that's kind of something you don't see all the time, but a pretty interesting thing to have.
Matt (04:16):Yeah.
Libby (04:16):I just wonder how many other fairs are going to have to do that. It just seems like it's going to be a hot, hot summer.
Matt (04:22):Yes. We're in the dog days of summer and we're still in June here. So you usually don't expect this till late July, August.
Brenna (04:28):Great. Something to look forward to. Right?
Matt (04:32):So for this episode, we're kind of looking to recap everything that we've talked about. We're going to go through kind of talk about what our favorite episodes were. What we learned, what we liked, what we didn't like. So Phil, what out of everything we've done, tell me your favorite episode.
Phil (04:50):Honestly, probably one of my favorite episodes was the one we did on insurance, farm insurance. Mainly because it's a topic I know a little bit about, I know enough to be dangerous on it, but it was one I probably learned the most on.
Matt (05:02):And Luke was a great person to have on that.
Phil (05:07):Yeah. Luke Lichtensteiger.
Matt (05:06):I mean, just had a real good time with that. And boy, I mean, especially on the farm side, even on the consumer, the farm side for anything insurance, he's the go-to guy.
Phil (05:18):Yeah. It just was one of those topics. Insurance is one of those things, even for me personally, like you get car insurance, you get homeowner's insurance, and it's just one of those things you don't really like. Hmm. I should probably like kick the tires on this and figure out what my policy says. And you're not real excited to like slap that policy or that binder down and be like, let's see what my numbers are, or just understanding what you're reading.
Phil (05:38):And I think a lot of listeners are probably that same way. They're just not real excited about chatting about insurance or digging through those policies. So for me, it was enlightening to learn what he does, how he looks at things, what we should be looking at annually, or every few years. And just what we should be doing, the new policies that are out there. So it was just overall, just a really educational podcast for me, personally.
Matt (06:02):And I think, especially in the insurance side, it's an ever-changing industry too.
Phil (06:06):Right. Yeah. Yeah. He had a lot of good things to say. So if you haven't listened to that one, I think it's episode number nine, where we talk about the types of farm insurance.
Matt (06:16):And that's a good point. Be sure to look us up on all the platforms. You can go back and listen to all of our episodes through whatever podcast platform you listen to us on. So Brenna, I'm looking at you. What was your favorite?
Brenna (06:28):Well, I obviously liked the beef one, just because I have the cows at home. That was very informative and definitely showed the comparison between show stock and production side of things. And I really appreciate Levi for coming and meeting with us there at Expo.
Matt (06:47):And we had some challenges recording that between weather and everything else. When we were doing the one with Levi, we kind of had the old windstorm kick up there and got pretty crazy out there while we recording.
Brenna (07:00):Yeah. Well, that was actually Dan, I think.
Matt (07:03):Oh.
Brenna (07:03):Yeah, yeah. Well that one was still pretty good too, but when we were standing out there not many people know this or even picked up on the recording, but the wind picked up and the tent that we were in actually whipped up and I just happened to like grab it. And luckily, I don't even know, my catchers background?
Matt (07:25):Like the true professional she is everyone, just kept right on going.
Brenna (07:28):It was kind of hard not to. We were like right in the middle of the conversation, and actually, I was kind of impressed how you and Dan just kept going. And I was like, and I'm sitting here trying to like wrestle this tent side over here on the side. So, it was pretty funny.
Matt (07:43):But that was a fun one, just all the industry insights we learned that weekend because we talked to quite a few different individuals that weekend. It's amazing to see where the cattle industry's going, especially just in our area. When you think of livestock and cattle, maybe Ohio doesn't always come to your mind as a big livestock producing state, and the industry is alive and well.
Brenna (08:08):Correct. Yep. I think another one of my favorite episodes was the succession planning one with Eric Brown. I love sitting down and talking with him and I could probably sit down for hours and hours and discuss that topic. I think there's a lot of people that don't realize how important it is, even being younger and making the plan, and even counting yourself as an asset to the farm and taking all of that into consideration. I mean he puts it into, I don't know, a verb, or not verbiage, but like a context that either you get it or you just are inspired to like hear a little bit more about it.
Matt (08:49):I think it was one of those that you didn't feel so intimidated by the question. It was more of an understanding and something that everybody can relate to a lot easier.
Brenna (08:59):Yeah. And you really do sit down and think about your own situation and whether or not it's going down the right path, or what not. I mean, I just love listening to him talk and putting it all together into a conversation.
Phil (09:17):It makes me want to drink Monster energy drinks, because I know that when he walked in-
Brenna (09:21):He had one.
Phil (09:22):And sat down. He sipped on a monster the entire episode and I was like, man, I need to get me one of those. He just has a ball of energy. I was like, that's an advertisement alone for an energy drink.
Matt (09:32):You think that's a replacement for your coffee?
Phil (09:34):I don't know. I have like three. I might. I might jump into the Monster, because he was rip roarin' to go.
Brenna (09:38):Yes.
Libby (09:39):He was very entertaining.
Phil (09:41):Energetic guy. Very entertaining. Yeah. Just sipped on his Monster the whole time. He loved it. Yeah. He had a good time with us.
Matt (09:48):So Libby, tell me what was your favorite episode?
Libby (09:51):So, my favorite episode was the episode that just came out on branding your farm. I love marketing. So obviously, that was my favorite. What I liked about that episode was when people think about marketing, they think of grain marketing, and it wasn't grain marketing, they think of direct marketing to consumers and it wasn't even about that. It was even about how your brand is as a farmer, when you're going to rent more land, and showing landowners how you take care of the properties of just you have a brand, whether you like it or not.
Libby (10:27):And you can always change that brand to what you want it to be, especially if you're trying to grow your farm. And I think that it's extremely important to younger farmers who are wanting to grow their operation with landlords, potential landlords, and even purchasing land as well. Having the opportunity to do that.
Matt (10:48):Brand recognition does seem to be one of the big things in every industry, but especially in ag, when you look at it right now from the equipment side, to the farm side, seed, every aspect of our business, there's a brand associated with that.
Brenna (11:04):Well the bio star, I mean the Deere for John Deere.
Libby (11:07):And when seed people with that brand, Becks comes to mind too. It's like, people want to be a part of that. So as a farmer, if you're trying to grow your land, landlords are like, oh, I want to be a part of that. I want them to represent my farm. So yeah, no, it is extremely important right now.
Matt (11:27):You know, I know there's a pretty good one with the AgCredit Said It hat that's tagged on all of our podcasts too. So, don't forget about that brand there.
Brenna (11:33):Correct. Yes.
Libby (11:34):There are real hats out there too, just saying. If you see me out, I'm normally supporting it on the weekends.
Matt (11:42):She will sign autographs. You guys just have to stop and talk to her.
Libby (11:46):See me at Meijer, I'm grocery shopping with the kids.
Brenna (11:50):With her AgCredit Said It hat.
Libby (11:52):Yes.
Phil (11:53):Matt, what was, what was one of your favorite episodes?
Matt (11:56):That's a tough one. Looking through the list of all of our episodes, and a lot of the topics that I may have not known much about and learned so much from, I would say probably one of my favorite ones is just because I've looked forward to all of our interviews, but Dr. Kohl. He's a very interesting guy to talk to, the experience, the knowledge he has, and just listening to his insight and outlook for our industry. It was something that you just kind of really sat back, and listened, and gathered some information from somebody that's been in this industry and promoted it for so long.
Phil (12:38):He's one of those guys where I've listened to him a handful of times, and it's like, I learn something every time he talks. It's not one of those things where it's repetitive. You always walk away learning something from Dr. Kohl.
Matt (12:48):Right. It's always something it's always something different with him.
Brenna (12:50):Well, he has that professor-type feel to it, but he also has the experience to back it up. I mean, he's talked many times about the dairy farm, and what not, and I think they did ice cream.
Libby (13:02):Creamery.
Brenna (13:02):Yeah, yeah.
Matt (13:03):The creamery. Yeah.
Brenna (13:03):Creamery. Yeah. So I mean, just hearing all of that and hearing his experiences, it makes sense and it just works.
Matt (13:12):And that's one of the great things I can appreciate about his knowledge, is it's firsthand knowledge. It's not just, I've read a book and learned this. He's in the industry, so this is firsthand knowledge.
Libby (13:25):And I think Matt and I could have talked to him all day long. I think we had a million questions that we wanted to ask him and we only could ask him like four.
Matt (13:33):Oh, I know.
Libby (13:33):Just in the time that we had, because he's just such an interesting guy to talk to.
Brenna (13:38):Okay. Now that you said that, what is like the hardest part about doing this you guys? The podcast itself.
Libby (13:45):I think as a host, it's hard because you are listening to what your guest is saying, and you're also trying to come up with questions in your head, and then they say something very interesting. And then, you totally lose what your question is that you had for them, and just having that conversation at least. Because I find all of our guests and even all three of you guys, just so interesting to talk to.
Libby (14:08):Everybody has such a good perspective that you think you have a question, it comes back to, I think what we learned at our Connect Conference, of you have to be a good active listener and not wanting to respond. And that is so hard as a podcast host.
Brenna (14:21):Try not to interrupt anybody.
Libby (14:25):We all want to talk.
Brenna (14:26):Yeah.
Matt (14:26):Yeah. Right.
Libby (14:28):Well Brenna, what do you think is the hardest thing?
Brenna (14:32):Listening back to myself talking, and finding out the words you say way too often. Like so, and you guys were making fun of me earlier for it.
Matt (14:43):And everybody, feel free to hashtag Brenna on so.
Brenna (14:49):Fine. We'll go with that. But no, I think listening back to ourselves. And it's not necessarily anything about the topics or anything like that, but it's very intimidating to sit here with a microphone in front of your face and have a conversation. One, sound intelligent if I can. I don't know. But just continuing, and like you said, transitioning from question, to question, to question it's an art and those that are in the broadcast world deserve way more recognition than they get.
Libby (15:24):Yeah, absolutely. Matt, what about you?
Matt (15:28):It is kind of like Brenna says, keeping that flow of things going. We're interviewing people, it's bringing the right questions at the right time, but also talking about, we've had a couple of episodes, we've talked about some tougher topics and it's, I would say, a little harder for me to not get caught up in those stories and still keep the ball rolling and ask the next question. So, it's definitely a tough one to keep everything flowing, I guess you could put it. Our producers do a great job of making us sound good on our episodes.
Libby (16:04):Thank you McCraken.
Matt (16:05):Yeah.
Brenna (16:08):Phil, what about you?
Phil (16:08):Yeah, I would agree with what everyone said. I mean, no one around this table went to broadcasting school, so we're loan officers number one, and we kind of jumped into a podcast. And yeah, like you said, got a microphone put in front of their face. And so, I think everyone here has done a great job and that's been the tough thing I think, is just learning to talk with a microphone in front of your mouth, and then try not to hit it with your face.
Brenna (16:36):I'm pleased with the power of editing.
Phil (16:39):Yeah. Right. Yeah.
Matt (16:39):And it's funny if you go back and listen to our first episodes versus our later ones, we've come a long way since we started this.
Brenna (16:47):Yeah. I mean, I couldn't even introduce myself. If anybody could have been in that room or if there could have been a camera on us, all I could think of was my name, and the fact that I'm an account officer here.
Matt (17:02):Yeah. On that thought, let's talk about some of maybe the funniest moments that we've had doing our first season.
Libby (17:09):And let's start with Brenna.
Brenna (17:12):Remembering who I am and what I do, that. The episode with the farm safety is my biggest one, like talk about a learning lesson right there. Do not record down a hallway that contains a restroom at the other end, because the microphone will pick up the door creaking, the dryer, or hand dryer going, luckily it didn't catch any flushes.
Matt (17:42):The door was at least closed for that, but it is amazing how well the microphones pick up everything.
Brenna (17:49):Yeah. I remember going back to the office after it came out, and one of the other account officers was like, hey, I got a question for you. I was like, yeah? She's like, were you guys in the bathroom recording that? I was like, oh my goodness. No. Is it really that bad? Because we thought we were down far enough that it wouldn't pick that up, but man, it sure did. So, lesson learned there for sure.
Matt (18:18):Phil, have you had any exciting moments you can think of?
Phil (18:20):I'd say the most fun was recording a podcast in your car. We used a-
Matt (18:25):I believe we had the iPad for that one.
Phil (18:27):The iPad, yeah. It was the equipment episode where, I can't remember why we had to do that, but we had to meet and literally it was, I don't even think we prepared one item for it. You just hit record and we just started talking.
Matt (18:38):Just started rolling with it. Usually, how the best episodes happen, am I right?
Phil (18:42):That is right. Yeah.
Brenna (18:44):Libby, what's yours?
Libby (18:45):Well, I was saying, going off of like Phil saying what the most fun was, I think when you have all four of us together and just the conversations that go on when the mics aren't on, which I think would be pretty funny if the mics were on of recording us and the scene back shows, but just the conversations that we've had and just the insight that all of us bring to the table has just been really fun.
Libby (19:10):And again, for most of you listeners, Phil and Matt are in Van Wert, and then Brenna's in Norwalk, and I'm in Marion, so we don't see each other that often. So, getting together has been quite a time. And just going through this whole learning process together has been fun. I don't really have any bloopers that I can really think of though.
Brenna (19:29):Because I took care of them all.
Libby (19:32):Yep. That's right.
Brenna (19:35):Matt, what about you?
Matt (19:37):I can think back to, maybe not one particular funny moment, but a lot of times when we are recording that our listeners don't hear is, a lot of our edits out were just us jumbling words together or the side conversation. It may sound like we are laughing when they bring us back in, but it's been a blast working with all you guys. I'm looking forward to what next season brings us.
Phil (20:03):On that note, yeah. I guess Matt, can you kind of share, I guess, yeah. We're ending season one. What's kind of our plan, I guess, moving ahead and starting season two?
Matt (20:11):This is kind of our recap episode for season one. Season two, we will start dropping episodes this fall. So feel free to message us on social media, with any feedback or anything, we love to hear back from our listeners on the good, and the bad. And I'm sure there's not too much bad, probably all good. Right?
Brenna (20:35):Well, you can also send us your topic ideas or special guests you'd like to hear from, to our podcast@agcredit.net email. So, feel free to send us those ideas. We're always looking for them, I guess.
Matt (20:50):Looking forward to that and just really seeing next season, we still want to kind of expand on still talking about all the different aspects of ag, but maybe we'll venture out. We'll do some more onsite recording. You never know what we'll get into.
Libby (21:09):Have some exciting, special guests too, hopefully here in the fall.
Matt (21:14):Well, guys, I want to thank you for making this probably one of the funnest parts of my job is doing this podcast with you guys.
Libby (21:23):I agree. 100%.
Brenna (21:25):Yep.
Matt (21:26):Well, that about wraps it up, so we will see all you guys come this fall when we start dropping new episodes of AgCredit Said It.
Phil (21:33):Thanks guys.
Libby (21:34):Thanks.
Brenna (21:35):Thanks.
Matt (21:35):Thank you.
Voiceover (21:38):Thank you for listening to AG Credit Said It. Want to talk AG in between episodes? Follow us on Facebook, Twitter and Instagram @agcredit. For more tips and resources, visit agcredit.net and be sure to subscribe to the show in your favorite podcast player. Catch you next time.