McClure, Reinhard elected to AgCredit Board of Directors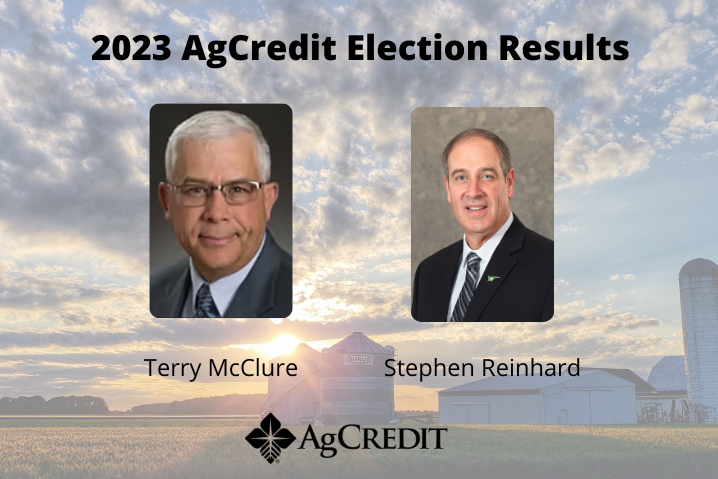 AgCredit, one of northern Ohio's largest lenders to farmers, agribusinesses and rural homeowners, recently welcomed two newly elected members to its Board of Directors.
Terry McClure of Grover Hill and Stephen Reinhard of Bucyrus are both serving their first terms on the 10-member board. McClure represents Region 1, which includes Paulding, Putnam, and Van Wert counties, while Reinhard represents Region 7, consisting of Crawford and Morrow counties. McClure has experience serving on several other Boards, including both Ohio and American Farm Bureau, Ohio Soybean Council, Ohio Wheat Growers and Nationwide Mutual Insurance Company. Reinhard has been involved with the Ohio Soybean Council, United Soybean Board, as well as the Airable Research Lab. Their vast, combined experience will greatly benefit AgCredit.
AgCredit's Board of Directors includes eight members who are elected by stockholders; the remaining two are board appointments to ensure diversity and a range of experience.
The 18 members of AgCredit's Nominating Committee – one representing each of the 18 northern Ohio counties that AgCredit serves – identify the candidates to fill any seats that may be open on the Board of Directors. A list of the 2024 Nominating Committee members can be found here: https://www.agcredit.net/about/leadership/board-directors/committees
A cooperative lender, AgCredit is a proud member of the Farm Credit System that was created more than 100 years ago to provide a reliable source of funding for the nation's farmers and ranchers. AgCredit supports rural communities and agriculture with reliable, consistent credit and financial services.