Is a barndominium right for you?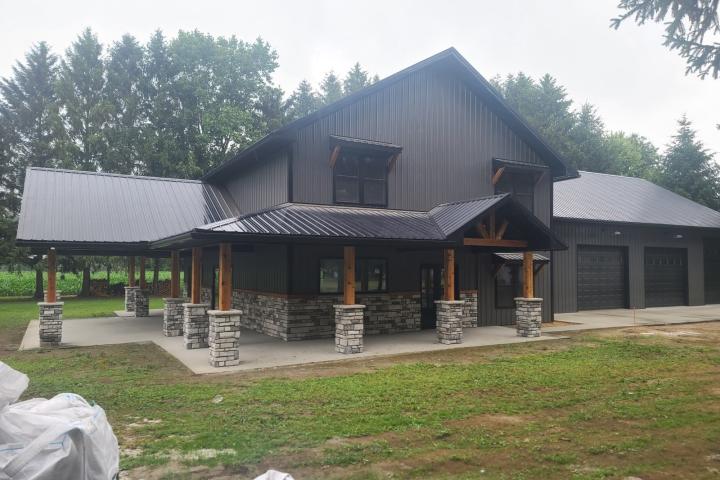 If you're a fan of the HGTV show "Fixer Upper," you may remember when Chip and Joanna Gaines transformed an old horse barn into a comfortable, modern-day living space they called the barndominium. Since that episode aired in 2016, many Americans have embraced these structures because they're a great way to enjoy country living in style and comfort while accommodating potential business needs. Keep reading for some great features barndominiums have to offer and how AgCredit can help if you're interested in buying or building one.
 
Barndominium floorplans offer incredible flexibility
A traditional home floorplan may not be the right fit for your family. Barndominiums accommodate a variety of open floorplans, which offer homeowners greater flexibility in terms of how the space is used. Are you thinking of having a workshop, crafting area or sizable family fun space? The spaciousness of barndominiums gives families the breathing room and creative versatility they need to accommodate their unique lifestyle needs. Spaces can be easily partitioned with sliding glass or trendy barn doors for working from home, working out or entertaining in large indoor-outdoor areas. The possibilities are endless!
 
Barndominiums usually require less maintenance
Barndominiums also often have fewer maintenance requirements. Because these structures are frequently built using metal, a barndominium doesn't have the potential for insect damage as wood does. Additionally, using beams to secure the home will help ensure that the foundation doesn't shift over time.
 
Barndominiums are often more energy efficient
Barndominiums can also be extremely energy efficient. That's because the structures often qualify for tax deductions for solar panels and insulation. Insurance can also be less expensive than that of a conventional home since barndominiums having less in wall plumbing. There are many more positives to barndominiums than style and open-concept living.
 
How AgCredit can help 
At AgCredit, we'll work with you one-on-one to make your vision come to life. Our main goal is to provide financing for anyone looking for a home, farm, agribusiness or barndominium loan. With your vision and our trained professionals, we can work with you to create a plan that gets you exactly what you want for a good price. At AgCredit, to qualify for the barndominium program, the living quarters in the barn-home structure must represent at least 1,000 square feet and contain a minimum of a kitchen, 2 bedrooms and 1 bathroom.
 
Before getting the ball rolling, it's important to know how to prepare. Doing research to understand your options, being aware of your credit score and compiling the financial documents you need. These include photo identification (driver's license or passport), proof of income, two recent years of tax returns and form W2s, and recent bank statements. 
 
If you're interested in financing for a barndominium or have questions about any of the other loans we offer, visit AgCredit.net to find your closest location. Or, if you're a current customer, call your AgCredit loan officer. 
To learn more, reach out to the loan experts at your local AgCredit office.