AgCredit Awards $10,000 in Scholarships to Local Students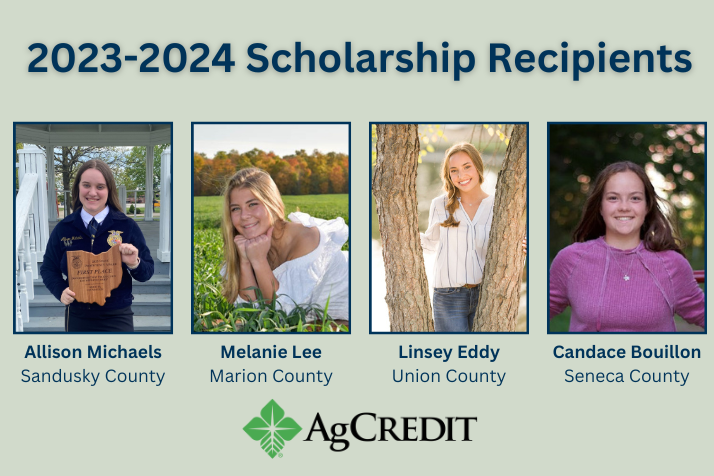 AgCredit has announced the winners of the 2023 scholarships awarded through the cooperative's Joe Leiser Memorial Scholarship program.
Leiser served as the first president and chief executive officer of AgCredit, which is one of northern Ohio's largest lenders, serving farmers, agribusinesses and rural homeowners. The annual program recognizes dependent family members of AgCredit voting stockholders who are enrolled in an agriculture-related field of study at a post-secondary educational institution. The cooperative has awarded scholarships to 37 deserving students over the past 10 years.
AgCredit congratulates the following students for earning scholarships for the 2023-2024 academic year:
Allison Michaels of Sandusky County is a senior at Wilmington College majoring in agricultural education with a minor in chemistry.

Candace Bouillon of Seneca County is a freshman at The Ohio State University majoring in agribusiness.

Linsey Eddy of Union County is a sophomore at Purdue University majoring in business analytics and information management with a minor in food and agribusiness management.

Melanie Lee of Marion County is a freshman at The Ohio State University majoring in animal science.
"AgCredit is proud to support the next generation of agricultural leaders," said President and CEO Brian Ricker. "Their dedication to the agriculture industry is key to continuing the advancement of one of our nation's most essential supply chains."